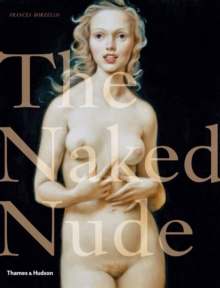 Description
The representation of the nude in art remained for many centuries a victory of fiction over fact.
Beautiful, handsome, flawless its great success was to distance the unclothed body from any uncomfortably explicit taint of sexuality, eroticism or imperfection.
In this fluent and engaging new study, Frances Borzello contrasts the civilized, sanitized, perfected artistic nude of Kenneth Clarks classic, "The Nude: A Study in Ideal Form (1956)", with todays depictions: raw, uncomfortable, both disturbing and intriguing.
Grittier and more subtle, both male and female, the new nude asks awkward questions and behaves provocatively.
It is a very naked nude, created to deal with the issues and contradictions that surround the body in our time.
Borzello explores the role of the nude in 20th- and 21st-century art, looking at the work of a wide range of international artists creating contemporary nudes.
Her fascinating text is complemented by a profusion of well-chosen, unusual and beautifully reproduced illustrations. The story begins with a tale of life, death and resurrection an investigation into how and why the nude has survived and flourished in an art world that prematurely announced its demise.
Subsequent chapters take a thematic approach, focusing in turn on Body art and Performance art, the new perspectives of women artists, the nude in painting, portraiture and sculpture and in its most extreme and graphic expressions that intentionally push the boundaries of both art and our comfort zone.
A skilled communicator with an ability to make us want to look at art and think anew about it, Borzello has much to say about modern art and about our contemporary and historical cultural fixation with the body and the nude.
Information
Format: Hardback
Pages: 192 pages, 130 illustrations, 116 in colour
Publisher: Thames & Hudson Ltd
Publication Date: 01/10/2012
Category: Nudes depicted in art
ISBN: 9780500238929
Free Home Delivery
on all orders
Pick up orders
from local bookshops
Reviews
Showing 1 - 1 of 1 reviews.
Review by presto
16/06/2015
Francis Borzello considers the role of the nude through the 20th and 21st Centuries taking in the art of a "wide range of international artists creating contemporary nudes". Through seven illustrated chapters she develops her theme, the book includes notes to the text, a selected bibliography, a detailed list of illustrations and an index. Her chapters are entitled: The Recycled Nude; The Nude: Its Life, Death and Resurrection; Body Art: The Journey into Nakedness; The Changing Room: Female Perspectives; Forgive Me, I'm a Painter; The Naked Portrait; After Rodin, Is There Anything Left To Say; Going To Extremes.Borzello quickly differentiates between the the idealised nudes represented in the past and the "grittier" (ie unflattering or uglier) nudes produced by artists today. A quick flick through the paintings and other works chosen to illustrate her book very quickly confirm this, her argument being that the serious art world today rejects the beautiful, the perfect form of the human body in favour of the more realistic approach. This no doubt explains the omission of a number of artists from her survey, artists such a Michael Leonard, Delmas Howe et al would contradict her theory, but I am surprised to find no mention of especially David Hockney, or perhaps Euan Uglow with his meticulous and honest approach to his work. Obviously in such a relatively short study there are limitations, but some omissions seem odd or just convenient, depending on your point of view.That said this is a very readable text, and Borzello's argument is backed up by comments in the of the artists' own words; an obvious advantage when discussing contemporary art is access to those artists one way or another. It is this inclusion of the thoughts of so many of the artists discussed that makes this particularly enlightening.The book is well illustrated, 130 illustrations of which 116 are in colour and most of which are of a good size with many full page and some covering two pages. However as is often the case in such a study the chosen works simply illustrate the text and are not in themselves discussed beyond the what the captions offer. At least in most cases there appear close to the relevant text.This is a well designed and produce book as one would expect from Thames & Hudson, and the quality or reproduction of the images is very good. Notwithstanding my comments above Borzello's text is interesting and thought provoking, the range of works chosen within her remit to illustrate her book fascinating with many not so familiar; it all makes for a worthwhile read; but keep an open mind.