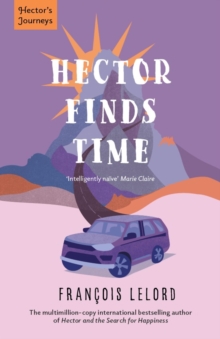 Hector Finds Time
Paperback
Description
Poor Hector. Tempus fugit, and our intrepid psychiatrist is not feeling quite as young as he used to.
His current patients are concerned with time too. One feels she's always in a hurry, as if there's a clock ticking in her tummy - she would like time to slow down.
But there's also a boy who wishes time would hurry along and turn him into an adult. And a third patient counts his remaining years of life in terms of how many dogs he'll have time to own.
Hector feels he must get to the bottom of this time business and to do so, of course, a round-the-world adventure is required. Follow Hector as he sets off to uncover nuggets of universal wisdom on time.
Who better to find out about the past, the future and how best to enjoy the present than the hero of Hector and the Search for Happiness and Hector and the Secrets of Love?
Information
Format: Paperback
Publisher: Gallic Books
Publication Date: 01/03/2012
ISBN: 9781906040895
Free Home Delivery
on all orders
Pick up orders
from local bookshops
Reviews
Showing 1 - 1 of 1 reviews.
Review by BrandieC
27/01/2016
Bloggers and Goodreads reviewers regularly debate whether the star rating given to a book should reflect how much that reader actually enjoyed the book or, instead, how well the book accomplished what it set out to do, even though that particular reader did not enjoy it. I didn't really appreciate this distinction until I read Hector Finds Time, written by François Lelord and translated from the French by Carol Gilogley.I did not enjoy this book, which felt to me like a more puerile version of Jostein Gaarder's Sophie's World , in that both books are philosophy texts disguised as novels. According to the review snippets at the beginning, Marie Claire described Hector Finds Time as "intelligently naïve"; I'm not so sure about the "intelligent" part, but I certainly agree with "naïve." Take this excerpt which appears on the third page of text, keeping in mind that Hector is supposed to be a psychiatrist:"Over time, Hector had gradually changed the way he worked. At the beginning, he mainly tried to help people to change their outlook. Now, he still did that, of course, but he also helped people to change their lives, to find a new life that would suit them better. Because, to put it another way, if you're a cow, you'll never become a horse, even with a good psychiatrist. It's better to find a nice meadow where people need milk than to try to gallop round a racecourse. And, above all, it's best to avoid entering a bullring, because that's always a disaster.Sabine would not have been happy being compared to a cow, even though cows are actually kind and gentle animals, Hector had always thought, and very good mothers too. It's true that she was also very clever, and sometimes this didn't make her happy, because, as you might already have noticed, sometimes happiness is not knowing everything."Despite the feeling that Lelord was talking to me as if I were in kindergarten, I struggled on to the end, where I found Lelord's explanation as to why he created Hector and his adventures (Hector apparently has searched for happiness and love, in addition to time):"I wanted to tackle psychological and philosophical themes in an entertaining way; to revive the French tradition of philosophical contes, or fables; [and] to both move and enrich my readers[.]"Were I to rate Hector Finds Time on how well Lelord accomplished his first two stated goals, I would give it 4 stars, and if I had known from the start that it was supposed to be a philosophical "fable" (although I suppose the opening words "Once upon a time" probably should have alerted me), I might have enjoyed it more. As it was, though, I found Hector Finds Time amusing but, ironically, a waste of my time.I received a free copy of Hector Finds Time through NetGalley in exchange for an honest review.
Also in the Hector's Journeys series | View all