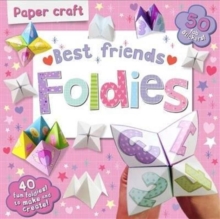 Paper Craft Foldies - Best Friends : 40 Fun Foldies to Make and Create!
Paperback
Description
Make your own amazing papercraft Foldies. Each book is packed with Foldies to make and create.
Some are printed full-colour, ready to pull out, put together for fortune-telling Foldie fun.
There are also plain Foldies for you to design and decorate yourself to create your own Foldie games.There are six sections in this book, with themed Foldies in each section, making 40 Foldies in total.
Contents:1. I'M LIKE... YOU'RE LIKE... WE'RE LIKE...Six fab Foldies designed to reveal the secrets of you and your friends' personalities.
What does your favourite animal say about you? What's your dream job? What kind of popstar would you like to be?2. OMGS!Six Foldies to inspire serious OMG moments. These Foldies will make you play silly games, do some crazy dance dares, fashion fails and funny cringes. 3. ROFLSThese Foldies will get you rolling on the floor laughing.
It's about feel good phrases, funny jokes, fluffy kittens in crazy cute outfirts and lots of lols to make you laugh. 4. HANG OUTSSix Foldies for you and your best friends to help inspire some best friend fun.
Use the Foldies to inspire a sleepover, fashion makeovers, hairstyles, and even fun things to do that don't involve the TV or a tablet!5.
BFFSThese Foldies are all about you and your BFFs. They will reveal why kind of friend you are, what your friends are like and just why you are all BFFs.6.
ULTIMATE FOLDIE FUNAnd last of all, there are ten fab foldies for you to customise.
Some need you to add stickers, or draw pictures on. Some need you to write in phrases to make them your own.
Then there are 3 blank Foldies just for you to customise to create your own Foldie fun.
Information
Format: Paperback
Pages: 98 pages, extent - 96pp + 2pp stickers
Publisher: Bonnier Books Ltd
Publication Date: 01/08/2015
Category: Novelty, toy & die-cut books
ISBN: 9781783704781
Free Home Delivery
on all orders
Pick up orders
from local bookshops
Also in the Paper craft Foldies series