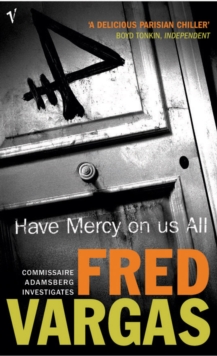 Have Mercy on Us All
Paperback
Description
Three times a day in a Parisian square, a curious modern-day crier announces the news items that are left in his box.
Over the course of a few days he receives a number of disturbing and portentous messages of malicious intent, all of them referring to the Black Death.
Strange marks have also appeared on the doors of several buildings: symbols once used to ward off the plague.
Detective Commissaire Adamsberg begins to sense a connection, even a grotesque menace.
Then charged and flea-bitten corpses are found. The press seizes on their plague-like symptoms, and the panic sets in.
Information
Format: Paperback
Pages: 400 pages
Publisher: Vintage Publishing
Publication Date: 07/10/2004
Category: Crime & mystery
ISBN: 9780099453642
Free Home Delivery
on all orders
Pick up orders
from local bookshops
Reviews
Showing 1 - 3 of 3 reviews.
Review by 30oddyearsofzan
16/06/2015
I feel like I didn't enjoy this one as much as I did. Possibly because I came to it straight from Atonement, which is the best thing I've read this year so far, and partly because of some perceived clunkiness of the translation, it felt like harder going. But nevertheless this is an engrossing mystery with an engaging cast of characters; I particularly liked the residents of the Place Edgar-Quinet. I'd still definitely check out more from this series.
Review by AHS-Wolfy
16/06/2015
Chief Inspector Jean-Baptiste Adamsberg has got what he really wanted, a murder squad to lead in Paris. The only problem now is that he has to learn 28 new names of the members of his team so it's a good job Danglard, his trusty no.2, has come along with him to help him out. While they're getting their new offices kitted out a woman comes in to report a strange case of graffiti, someone has been painting backwards 4's on the doors in her apartment block. Thinking nothing of it, Adamsberg fobs her off with some vague reassurances but is then more intrigued when the woman returns reporting other instances around different districts in Paris. Danglard has a fuzzy recollection of the symbol and Camille, Adamsberg's lover, also remembers seeing it in a history book of a friend. While all this has been going on, there's a town crier who's been getting some very strange messages, which seem to be snippets of old history books left for him to read. One of his friends manages to trace where the texts are coming from and what they portend they realise they should inform the police and as the friend in question has had dealings with Adamsberg before that's who they arrange to see and advise him that someone may be planning to release the black death at any moment. When he hears the tale, Adamsberg decides to track down the meaning of the backwards 4's and contacts Camille's historian friend, who turns out to be one of <I>The Three Evangelists</I> so if you've read that book it's a nice little cameo, and that also relates to the plague being used as a talisman to ward it off. Is someone seriously about to unleash the Black Death or is it just fear mongering or perhaps there's something else behind it all. Whichever, it's not long before the first victim is found and the pronouncements left for the crier are getting worse.Adamsberg is not a typical detective, often following gut instinct even when there's no logic behind his feelings. He's somewhat absent-minded, especially with names and dates but he often sees more than even he realises at the time with pictures of events returning to him with a vital clue as to what he may be looking for. The author manages to use her knowledge as an historian to really help set the scene and ramp up the tension with each step. The story does meander along for a while at the beginning but Vargas' characters are so bright and varied I didn't mind one bit. Last time I visited this series I found the translation to be a bit clunky but even though it was done by the same person I had no problems this time around. An original voice in a genre that is increasingly difficult to find something that bit different, recommended for those looking for a more off-beat police procedural.
Review by cecily2
16/06/2015
I think I liked [book: Seeking Whom He May Devour] more, but nice writing style and still enjoyable.
Also in the Commissaire Adamsberg series | View all