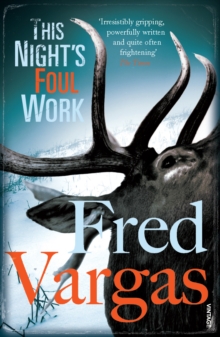 This Night's Foul Work
Paperback
Description
On the outskirts of Paris, two men have been found with their throats cut.
In Normandy, two stags have been killed and their hearts cut out.
Meanwhile a seventy-five-year-old nurse who has murdered several of her patients has escaped from prison.
Is there a connection between the three cases?In this mystery, Commissaire Adamsberg is pitted against nemeses past and present: Ariane Lagarde, France's foremost pathologist and Adamsberg's enemy since they argued over a case twenty-three years earlier, and Louis Veyrenc, a new recruit with a grudge, who has been assigned the job of protecting the Commissaire's ex-girlfriend.
As the different strands of Vargas's compelling story begin to intertwine, events move towards a gripping climax... Shortlisted for the Duncan Lawrie International Dagger.
Information
Format: Paperback
Pages: 416 pages
Publisher: Vintage Publishing
Publication Date: 01/02/2009
Category: Crime & mystery
ISBN: 9780099507628
Free Home Delivery
on all orders
Pick up orders
from local bookshops
Reviews
Showing 1 - 3 of 3 reviews.
Review by austcrimefiction
16/06/2015
Being more than a little bit fond of the Jean-Baptiste Adamsberg series I was very annoyed with myself when I got a bit behind with the releases and had to make an effort to catch up. Poor me. So tragic. Having to spend some time with one of my favourite, eccentric detectives and the rest of his team of mildly odd compatriots.THIS NIGHT'S FOUL WORK sees Adamsberg team pretty well settled, so the introduction of any new lieutenant could be complicated. Louis Veyrenc is even more disruptive, with his tendency to speak in verse (twelve-syllable alexandrines to be accurate), to say nothing of his oddly striped hair and his deeply held, childhood grudge against Adamsberg. Which grudge Adamsberg is pretty well oblivious to until slapped over the head with the evidence. He's somewhat preoccupied by the return into his life of old nemesis Ariane Legarde, pathologist, and Adamsberg enemy since he questioned her conclusions in a case twenty-three years earlier. But there are crimes at the centre of this book and typically baffling at that. You can only guess at what the connection could be between the ritual killing of stags in the hills of Normandy, two local "lads" found murdered after raiding the graves of recently deceased spinsters, and the escape from prison of a seventy-five-year old multiple killer nurse that Adamsberg has dealt with before.Needless to say THIS NIGHT'S FOUL WORK has a wonderful feeling of the Gothic about it. Odd glimpses of shadowy figures creeping around graveyards; curses past and present; places with strange histories; things going bump in the night in Adamsberg's new house; childhood grudges; deeply held beliefs; long enmities and friction. Lots and lots of friction. All of action swirls around Adamsberg as he sort of floats through life. He's more a cerebral than rush around detective, prone to leaps of faith and acute observations - his odd behaviour is no longer regarded as anything out of the ordinary by a team which kind of specialises in odd behaviour. But this team is also capable of immense kindness, understanding and support for each other - they are the perfect group to spend time with if you like things just that little bit batty.If you're not aware of this series - Fred Vargas is the pen name of Frédérique Audouin-Rouzeau, French medievalist and archaeologist. Vargas, as of THIS NIGHT'S FOUL WORK a twice winner of the Duncan Lawrie International Dagger award, is translated by Siân Reynolds who does a sterling job at translating the language but keeping the overall feel and quirkiness of the books.Just a quick word of warning - I rather like a series where it doesn't matter if you get them all out of order. In the main I've read the Adamsberg books all over the place but in this case, with the next book AN UNCERTAIN PLACE out already, you'd really be best to read THIS NIGHT'S FOUL WORK first. Without this, earlier, book I suspect a reader could get bamboozled otherwise as there's a lot of setup for AN UNCERTAIN PLACE in THIS NIGHT'S FOUL WORK.Needless to say I just love these books. But really - don't read them if you're looking for precise behaviour, keen logic, rules and regulations being followed, and no idiosyncrasies. Do read them if you're looking for humour, darkness, quirky, a hugely entertaining police procedurals... well police scenarios. Let's go with that...
Review by ten_floors_up
16/06/2015
A book to be read further into the night than you know is sensible - or to wake up early for and read before resuming everyday life. Quite magnificent, and unlike any other author in the genre I've read before. Despite my unbridled enthusiasm, I would class Vargas as a Marmite author: I suspect readers will either love her books or hate them.
Review by AHS-Wolfy
27/08/2015
A new member has joined Commissaire Adamsberg's serious crime team and brought some unpleasant memories from the past with him. Does he have ulterior motives in seeking out Jean-Baptiste? There's also a couple of death's that the drug squad want to take charge of but Adamsberg is reluctant to give them up. There's a 75 year-old nurse, dubbed an angel of death, who's killed a guard and escaped from prison. Does she have revenge in mind as Adamsberg was the one responsible for her incarceration? And what do two dead stags have in common with a couple of apparent grave disturbances? and the theft of some old relics and why are the team even involved with this? To top it all off, there's a ghost in Adamsberg's new house.This instalment of the off-beat Paris Commissaire and his team focuses on the dissociated serial killer who manages to keep two sides of themselves separate so that one part of their personality is capable of committing the most heinous of crimes while the other hasn't got a clue and continues with a normal life. We get to learn more of the rest of the team and their own little foibles although Adamsberg is still the centre of the action but even the cat plays a part in this one. Another excellent addition to this off-beat police procedural that is again well translated by Sian Reynolds.
Also in the Commissaire Adamsberg series | View all