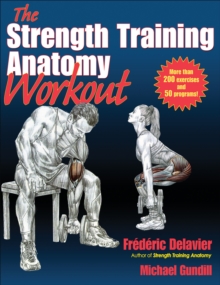 Strength Training Anatomy Workout, The
Paperback
Description
Over one million readers have turned to Strength Training Anatomy for strength training's most effective exercises.
Now put those exercises to work for you with "The Strength Training Anatomy Workout".
Over 150 full-colour illustrations of this title allow you to get inside more than 200 exercises and 50 workouts to see how muscles interact with surrounding joints and skeletal structures.
You'll also discover how variations, progressions and sequencing can affect muscle recruitment, the underlying structures and ultimately the results. "The Strength Training Anatomy Workout" includes proven programming for strength, power, bodybuilding and toning.
You'll find targeted conditioning routines for optimal performance in more than 30 sports, including basketball, soccer, track and field and golf.
Information
Format: Paperback
Pages: 256 pages, 196 Illustrations, color; 1230 Halftones, color
Publisher: Human Kinetics Publishers
Publication Date: 16/03/2011
Category: Anatomy
ISBN: 9781450400954
Free Home Delivery
on all orders
Pick up orders
from local bookshops
Reviews
Showing 1 - 5 of 11 reviews.
Previous | Next
Review by wineisme
16/06/2015
A Delavier illustrated strength book should be found in every training enthusiast's library. I relied on Strength Training Anatomy during my undergraduate and graduate studies in kinesiology (the study of human movement). This is a big step-up from the original book. The reality is that two identical people can perform the same strength training regimen, and over time, they will look and feel completely different from each other. One person will have gained in strength, lean mass, and more; the other person will feel perhaps a bit stronger. This book targets effective strength training. It is not enough to just go through the traditional motions of bodybuilding. You need to recognize the movement, the muscles responsible for that movement, and how a small tweak can produce a sizeably different product. As a certified Health Fitness Specialist with the American College of Sports Medicine, I highly recommend this book. Dedicated novices will learn through less trial and error. Intermediate lifters will shape and shake up their routines.
Review by gcamp
16/06/2015
One of the nice things about 'The Strength Training Anatomy Workout' is the fact that you only need a few pieces of equipment to do the exercises (dumbbells, a pull-up bar, and elastic bands). This book does a nice job of explaining how muscles work and gain strength as well as how they recover. It helps you customize workouts for your specific needs and gives sample programs for both beginners and advanced trainers as well as different programs for men and women, and customized programs which are helpful for any sports in which you might be active. It gives you helpful hints as well as the advantages and disadvantages of almost every exercise included. But probably my favorite part of this book is the superb illustrations which highlight the muscles which are worked in each exercise. This not only helps you to visualize your own muscles as you do an exercise, but also gives you a feeling as to whether or not you are doing the exercise correctly. This is truly a great book to have around, whether you are a serious body builder or you just want to know more about your own anatomy.
Review by Virasana123
16/06/2015
This book is excellent, and although Delavier promotes the disadvantages of working out at a gym, this book has been an invaluable tool for me at the gym and at home. I appreciate how Delavier is not so arrogant to suggest that his book is the ultimate resource in strength training, and even points out the disadvantages and advantages of each exercise. The advice that not all exercises are suitable for all body types allows the reader to truly design a suitable program for themselves.This book acts as a personal trainer and the depictions of the exercises, along with the anatomy of the muscles utilized is an invaluable resource. I would recommend this book to a beginner or an advanced exerciser.
Review by realbigcat
16/06/2015
I own and have read dozens of books on strength training. This book is a very complete and informative book. It's great that it covers more than 200 exercises not only with weights but without as well. The book is printed on thick high quality paper with great color photos showing exactly how to do each exercise but also are very detail medical type drawings of the muscles used in the exercise. There are question and answer sections. Lots of great info, some unique exercises and more than 50 unique programs. If you are new to strength training or if you have been a long time workout buff I don't think you can go wrong with this book.
Review by Lilac_Lily01
16/06/2015
This is a very valuable resource for any bodybuilder or fitness minded individual. One of the authors Frederic Delavier is best known for his excellent illustrations in "Strength Training Anatomy" which depicted every muscle used during exercise. "The Strength Training Anatomy Workout" is a high quality addition to that first book. It shows the reader how to put the strength training principles into practice. What I really like about the workout edition is that the authors kept it pretty simple. You don't need tons of equipment to get in shape or perform the exercises described in this book. In fact, the authors even recommend you do these exercises at home. You don't even need a gym unless that's where you prefer to workout. I love how detailed every exercise is explained and the step by step full color pictures. I also really appreciated the included complete workout routines that are tailored to different fitness levels. Overall, it is a very informative book that I can highly recommend. Even if you think you know it all about bodybuilding this book is still a good refresher on proper technique which is key to success in weightlifting.