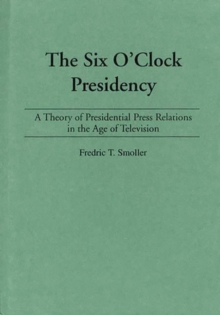 The Six O'clock Presidency : A Theory of Presidential Press Relations in the Age of Television
Hardback
Description
Studying the increasingly powerful role television plays in the political process, Fredric T.
Smoller offers a persuasive argument that the big three network coverage of the presidency is gradually eroding public support for and confidence in that office.
This book argues that network coverage of the presidency is determined by the political, technical, and commercial nature of the medium itself, producing a bias toward extensive and negative coverage.
Smoller studies the thematic nature of television's presidential coverage, demonstrating how producers and correspondents integrate their daily coverage into ongoing themes which provide dramatic unity over a prolonged period of time.
Thus, television's portrayal of the White House generally starts out favorable but soon becomes unfavorable.
Attempts by the White House to combat these negative portrayals by managing news coverage and isolating the president will subvert democratic values. The Six O'Clock Presidency argues against generally accepted views that network coverage of the presidency is too favorable and reveals the power of the networks to unravel the career of individual presidents and the public's support for that office.
Noting that television news is getting tougher on the presidency as each full-term administration president since Richard Nixon has received a bigger measure of poor coverage than its predecessor, the author spent several weeks with the White House press corps to determine how this could be explained.
He interviewed television news executives, correspondents and technicians for ABC, CBS, and NBC, as well as White House officials.
The result is a comprehensive study of the economics, technology, and personnel of network news and its coverage of the presidency.
Information
Format: Hardback
Pages: 176 pages
Publisher: ABC-CLIO
Publication Date: 07/09/1990
Category: Radio & television industry
ISBN: 9780275935986
Free Home Delivery
on all orders
Pick up orders
from local bookshops