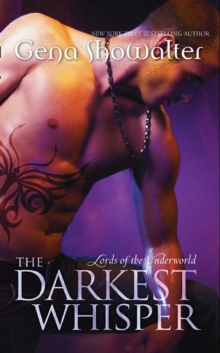 The Darkest Whisper
Paperback
Description
He destroys all those he loves with a single word...Sabin is bound to the most malicious of spirits.
The joining makes him immortal - and ensures that Sabin will face eternity alone.
Even the strongest woman cannot resist the constant pinpricks of Doubt.
Sabin is searching for Pandora's box, the source of his demon, when he rescues a beautiful woman who soon reveals her darker side.
Gwen has spent her life trying to ignore her powers.
Now they are uncontrollable and Gwen is dangerous. Sabin must teach her to contain her terrifying rage. And his reward will be Gwen - the one woman who can overcome his demon's evil whispers.
Information
Format: Paperback
Pages: 416 pages
Publisher: HarperCollins Publishers
Publication Date: 29/08/2009
Category: Fantasy
ISBN: 9780778303626
Free Home Delivery
on all orders
Pick up orders
from local bookshops
Reviews
Showing 1 - 3 of 3 reviews.
Review by MisfitRhi
16/06/2015
Turning up the heat on the Lords...When you're cursed to carry the demon of Doubt around with you it's hard not to question your own decisions some of the time. Sabin has tried and unsuccessfully had relationships with women who were confident and strong. But Doubt has always found his way into their hearts and minds slowly destroying them. The best way to protect them is never to allow himself to have relationships with them. Which could be easy to do with the war between the Hunters, lead by the demon-disguised-as-angel known as Galen, and the Lords of the Underworld catching flame and burning faster than ever. When Sabin finds Gwendolyn the Timid locked away in an Egyptian prison at the mercy of Hunters he is immediately drawn to the sad, beautiful woman. Tormented and abused at the hands of the Hunters Gwen and the women with her are just the surface of their latest evil scheme. An immortal in her own right, Gwen should be fierce and capable of protecting herself. Yet doing so means giving in to her dark side, a side she is afraid to accept lest it make a monster of her. To Sabin she represents a chance to truly strike a blow to his enemies if he can persuade her to claim that half of herself but with Doubt fighting him and a multitude of threads to unravel only time will tell if he can get Gwen to trust herself and his growing feelings for her. It's no secret this isn't my favorite series out there that follows a band of brothers. Sometimes the Lords of the Underworld can really feel like a generic version of this concept. The Darkest Whisper, however, seems to be the book that has begun to break the mold a bit. Sabin and Gwen aren't particularly memorable as hero and heroine but there is a definite stronger chemistry between them than previous H/H in the series. Gwen is a timid immortal with an interesting past/family life and Sabin (while probably one of the Lords I could care least about) is an strangely good match for her. The demon of Doubt is well used in this story, trying to make both Sabin and Gwen question one another's feelings and motives. As a romance I think most readers will be pretty satified. The overall plot of the book does incorporate bits of what is going on with other Lords. The trouble with Paris takes a dark turn, Gideon's role gets a lot of attention preparing for his book (the next in the series) and previous H/Hs have roles that aren't just silly cameos. Readers who like this sort of book will probably still want a little more but I think this is a step in a strong direction for the LOTU on the whole. I'm also really thrilled to add that the plot for this book, while trying to bring a few too many different angles together, did something that rarely happens to me as a reader--it surprised me! It isn't often an author can pull a great plot twist without me seeing it coming. I loved that Showalter managed to do that this time around. If you're a LOTU fan I think you will love this fourth book in the series. If you haven't read any of them yet this would be a really confusing story plot wise but is definitely a great example of both Showalter's best writing and the potential this series has if you want to give it a try. Enjoy!
Review by amf0001
16/06/2015
I'm not going to read this series anymore, it just doesn't grab me. This book was okay, in a kind of going a long with it way, while I'm reading it, but I kept putting it down and reading another book and feeling no urge to go back and read it some more. It feels too generic, and it just didn't engage me, which was the problem I had with the other books. In theory I should like them, they are romances, which I love, and paranormals, which I read all the time. Maybe I've read too many but there's nothing new and exciting here for me. The men are like JR Wards guys but with more sensible names, the women are more distinguishable, but I don't want to be their friends and I don't love the men, really, it's kind of bland. The men are meant to be tortured but I just don't feel it, and there's a scooby doo gang kind of feel to it, which doesn't go with the tortured ethos, and there is very little sexual tension. It sounds worse than okay, doesn't it? It's reallly not that bad, just too easy to put down.
Review by Cynical_Ames
16/06/2015
Well, all I can say is that Sabin is a better man than I. <br/><br/>***Spoilers***<br/><br/>I could never let my mortal enemy go on the whim of the person I loved, especially after he'd just mutilated one of my brothers-in-arms and had previously murdered my best friend. Okay, I wouldn't kill him...yet, to save my lover's feelings but I'd lock him up, maybe torture him a little. That's why I couldn't give this 5 stars. <br/><br/>***End of Spoilers***<br/><br/>However, I continue to love the humour in these books:<br/><blockquote>William growled in his throat. "Anya, must you share my secrets with everyone?" He flattened his palm on the arms of his chair. "Fine, if you can spill, I can, too. Anya's the reason the <i>Titanic</i> sank. She was playing chicken with the icebergs."<br/>Scowling, Anya anchored her hands on her hips.<br/>"William had a bronze made of his penis and placed it on his mantle."<br/>Rather than embarrass the man, her words spurred him on. "Anya visited the Virgin Islands a few years ago and after that, all the natives started calling them the Islands."<br/>"William has a tattoo of his own face on his back. He says it's 'cause he doesn't want to deprive the people behind him of his beauty."</blockquote><br/>ROFL! I love this woman. Anya continues to brighten not only the the lives of the warriors and their women but us readers too!<br/><br/>Damn, I don't have the next two books. Must order them now!