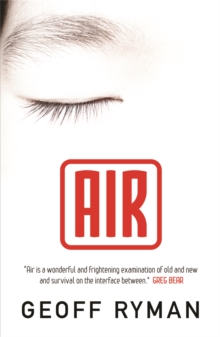 Description
This remarkable novel is about the effects of a new communications technology, Air, that works without power lines or machines.
As pervasive technology ensures the rapid spread of pop culture and information access, few corners of the planet remain untouched.
One of those few is Kizuldah, Karzistan - a tiny rice-farming village, predominantly Chinese Buddhist but with a strong Muslim presence, among whom sharply intelligent though illiterate Mae Chung, a self-styled fashion expert guiding the village women in dress, make-up and hairstyling, is an informal leader.When the UN decides to test the radical new technology Air, Mae is boiling laundry and chatting with elderly Mrs Tung.
The massive surge of Air energy swamps them, and when the test is finished, Mrs Tung is dead, and Mae has absorbed her 90 years of memories.
Rocked by the unexpected deaths and disorientation, the UN delays fully implementing Air, but Mae sees at once that her way of life is ending.
Half-mad, struggling with information overload, the resentment of much of the village, and a complex family situation, she works fiercely to learn what she needs to ride the tiger of change.
Information
Format: Paperback
Pages: 400 pages
Publisher: Orion Publishing Co
Publication Date: 14/09/2006
Category: Science fiction
ISBN: 9780575078116
Free Home Delivery
on all orders
Pick up orders
from local bookshops
Reviews
Showing 1 - 3 of 3 reviews.
Review by isabelx
16/06/2015
"We are the party of progress in our village. Ah? But there is another party. It goes around destroying the TV sets. My brave boss Mrs Chung Mae tries to teach our children, our women, our men, how to use Air when it comes, she teaches us on the TV. And the Schoolteacher prevents her! The Schoolteacher actually tries to stop us learning. He breaks the TV! That is what we face! While all of you are going to the moon!"Air is the future, it is Internet inside your head, and it will be universal. As soon as she hears about Air, Chung Mae realises that her job as her village's fashion expert is threatened, and that her village is in danger of being left behind as the rest of the world surges ahead into the future. She may be a peasant from a small country in central Asia, living in a remote mountain village which has only recently received its first communal television, but Mae faces the coming changes head on.The book skips between the small world of the village, with its resistance to progress and suspicion of government interference, the rest of Karzistan, as a group of villagers go to the city to attend a conference about the coming of Air, and the wider world beyond, as Mae's new business brings her into contact with the net savvy denizens of New York.The mood is constantly changing between hopes and fears for the future, the villagers in conflict and co-operating, happiness at government help and fear of government clamp-downs. "Sizzling Sezen's Pop Picks" made me laugh when I was reading her forthright opinions of Karz musicians, but just a few pages later the tone became much darker as Mae and her friends risk falling foul of the Karzistan government. The only thing I didn't like about this book was the element of outright fantasy introduced toward the end. It didn't add anything and spoiled the whole story for me. Until then this book was heading for 5 stars and a permanenent place in my bookcase.
Review by seawolfsanctuary
16/06/2015
I could only hack half of this; while it seemed much too slow for my tastes, I can see why others would enjoy it.
Review by lambada
16/06/2015
A deeply moving account of an isolated villager's perspective on the large leaps in modern technology, and how she rises to the challenge of adapting and making their voices heard.
Also in the Gollancz S.F. series | View all