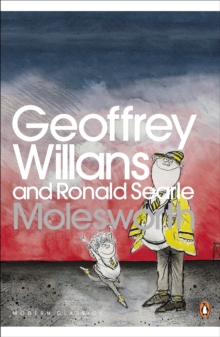 Description
School is 'wet and weedy', according to Nigel Molesworth, the 'goriller of 3B', 'curse of St Custard's' and superb chronicler of fifties English life.
Nothing escapes his disaffected eye and he has little time for such things as botany walks and cissy poetry with an assortment of swots, snekes and oiks.
Instead he is very good at missing lessons, charming masters and putting down little brothers, in fact he is exceptional at most things except spelling.
Wildly funny and full of sharp observations on life, the `Molesworth tetralogy' is magnificently complemented by the illustrations of Ronald Searle
Information
Format: Paperback
Pages: 432 pages
Publisher: Penguin Books Ltd
Publication Date: 02/11/2000
ISBN: 9780141186009
Free Home Delivery
on all orders
Pick up orders
from local bookshops
Reviews
Showing 1 - 1 of 1 reviews.
Review by isabelx
16/06/2015
A compendium of Nigel Molesworth's four books about life at his prep school, St Custard's:"Down with Skool! : A guide to school life for tiny pupils and their parents""How to be Topp : A guide to Sukcess for tiny pupils, including all there is to kno about SPACE""Whizz for Atomms : A guide to survival in the 20th century for felow pupils, their doting maters, pompous paters and any others who are interested""Back in the Jug Agane"Very humorous, with wonderful illustrations. Here is Molesworth's attempt at reciting poetry in English class, while being sabotaged by his great friend Peason:SIR THE BURIAL SIR OF SIR JOHN MOORE SIR AT CORUNNA SIR(<i>A titter from 2B they are wet and i will tuough them up after.</i>)Notadrumwasheardnotafuneralnoteshut up peason larffingAs his corseAs his corsewhat is a corse sir? gosh is itto the rampart we carried(<i>whisper you did not kno your voice was so lovely</i>)Not a soldier discharged his farewell shot.<i>PING!</i>Shut up peason i know sir he's blowing peas at meOer the grave where our hero we buried.(<i>A pause a grave bow i retire and Egad! peason hav placed a dainty pin upon mine seat.</i> Fie!)
Also in the Penguin Modern Classics series | View all