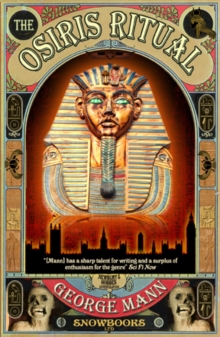 The Osiris Ritual
Paperback
Description
Sir Maurice Newbury, Gentleman Investigator for the Crown, imagines life can be a little quieter from now on after his dual success in solving The Affinity Bridge affair.
But he hasn't banked on his villainous predecessor, Knox, hell bent on achieving immortality, not to mention a secret agent who isn't quite as he seems...So continues an adventure quite unlike any other, a thrilling steampunk mystery and the second in the series of Newbury & Hobbes investigations.
Information
Format: Paperback
Pages: 416 pages
Publisher: Snowbooks Ltd
Publication Date: 07/09/2009
Category: Fantasy
ISBN: 9781906727048
Other Formats
Hardback from £15.19
Paperback from £7.19
EPUB from £3.99
Free Home Delivery
on all orders
Pick up orders
from local bookshops
Reviews
Showing 1 - 5 of 6 reviews.
Previous | Next
Review by devenish
16/06/2015
'The Osiris Ritual' is the second book in the Newbury & Hobbs series. They are set in an alternative Victorian London which is instantly recognizable but at the same time very different from the norm. Airships fly over the city,Land trains speed through the streets and robot-like creatures are commonplace.Sir Maurice Newbury is an agent for Queen Victoria and together with his assistant Miss Veronica Hobbs are quickly drawn into two intertwined cases. Newbury attends the unwrapping of an Egyptian Mummy by a famous explorer who's dead body is soon found in the mummy's coffin.A rogue agent is suspected and Newbury proceeds to track him down. This provides us with many feats of daring-do,including a rather hard to believe chase across the roof-tops and into the underground.Hobbs in the meantime attempts to solve a case involving the disappearance of several young girls. They have all visited a theatre at which a stage magician has used them as part of his act. As with his earlier book 'The Affinity Bridge',the action comes fast and furious and one just has to keep reading.My only criticism is that the writer sometimes attempts to put too much into the plot and by doing so,he tends to over-gilds the lily. An excellent read nevertheless.
Review by kkisser
16/06/2015
The next adventure in the Newbury and Hobbes series in which secrets of the crown investigators is unraveled through an investigation of murders and theft of Egyptian artifacts. A fast paced Victorian romp in a steampunk world where mad science has created unusual consequences. As always a fun, fast-paced adventure with wit and humor.
Review by adpaton
16/06/2015
Steampunk, secret agents, Victorian London, Egyptology and mysterious mummies - very promising elements indeed especially set in an alternate history where robots are common and a sinister doctor keeps Queen Victoria alive by nefarious means. Sir Maurice Newbury, curator of the British Museum but really a secret agent of the crown, is developing feelings for his assistant Miss Veronica Hobbes who is actaully a spy for the queen herself. Ho hum. Plus Sir M is an addict who cannot resist the laudanum. Addiction is a terrible disease, not a romantic foible, and is a tedious, irritating and unnecessary part of a tale of action, adventure and derring-do which, by its very nature, features cardboard caracatures rather than caring characters. It is unlikely, even a century ago, that the authorities would have been unaware of addiction on the part of one of their most senior and trusted agents or that they would have counternanced it. Mummies are always great fun and the Egyptology which was all the rage at that time, is interesting although wildly unrealistic: still, who doesn't thrill to a public unwrapping especially when the revealed corpse is in a rictus of agony, indictating it was mummified while still alive!Then there are the girls who disappear after having attended conjuring shows, all given by the same magician, leading Hobbes to deduce he is somewho involved in their fates. Meanwhile, a rogue mechanical former secvret agent is working against them in the background, and people are dying left, right and centre. All fairly thrilling and fun..
Review by bposinger
16/06/2015
It seemed slow moving at first, but then gripped me so hard that I couldn't find means to put it down. I only wish there had been slightly more detail within the relationships between the main characters, other than that, it was a great read.<br/>I plan on reading the first Newberry and Hobbes mystery as well as continue with the series.
Review by Irena.
16/06/2015
3.5 <br/>It's slow the first half of the book, but it gets better later.