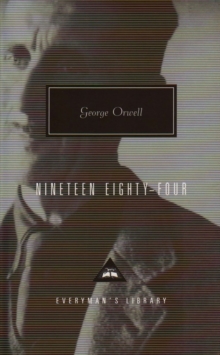 Nineteen Eighty-Four
Hardback
Description
In Nineteen eighty-four, one of the 20th century's great myth-makers takes a cold look at the future. Orwell's study of individual struggling - or not struggling - against totalitarianism remains a salutary lesson in any society.
Information
Format: Hardback
Pages: 326 pages
Publisher: Everyman
Publication Date: 01/10/1992
ISBN: 9781857151343
Other Formats
eAudiobook MP3 from £5.09
Paperback from £6.09
Hardback from £10.00
CD-Audio from £9.95
EPUB from £4.99
Mixed media product from £26.89
Free Home Delivery
on all orders
Pick up orders
from local bookshops
Reviews
Showing 1 - 1 of 1 reviews.
Review by aMenalque
16/06/2015
Not as good as Animal Farm, or the criminaly under-rated Homage to Catalonia, this book is slow, relative to his other works, which causess it to lose momentum and power.Whilst on many levels this is a fantastic book in many respects, its intelligence and undercurrent of irony, it is let down both by itself, and by the people who read it. On its own, it lacks the sheer futility present in other dystopian books, such as Brave New World, or the claustrophobic atmosphere of others, such as We (Zamyatin, if you havn't already, read this). It is clever, especially in regards to the ideas behind the violence. The physical is only one aspect of the 'treatment', it is the need for Winston to love his tormentor, and hate and despise his lover that really are disturbing, the fickelty of humans.The main reason I have been slightly put off this book is that it is almost inevitable that 3 out of 4 people will insist on saying "who'd of thought, 1984 is coming true, just as Orwell predicted". Admitedlly the majority who say this have never read the book. But 1984 was NOT an attempt to predict the future (unlike Brave New World), it was purely aan assesment of the political situation in the Cold War. All the elements Orwell discusses were already in place in society in 1948, they were already true. This also dates the book slightly, especially refrences to Soviet, Nazi(until 1946), British and US youth enrollment schemes, British propaganda and the importance of individual leadership.This does deserve its status as a classic in many ways, and it did introduce me to the Dystopian genre. However, it is by no means the best in this category, and also not the best of Orwell's work, which most go to something more powerful, probably Animal Farm.aM