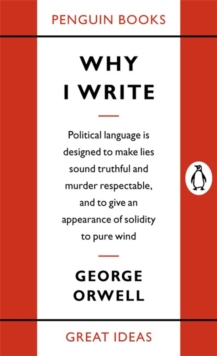 Description
Whether puncturing the lies of politicians, wittily dissecting the English character or telling unpalatable truths about war, Orwell's timeless, uncompromising essays are more relevant, entertaining and essential than ever in today's era of spin.
Information
Format: Paperback
Pages: 128 pages
Publisher: Penguin Books Ltd
Publication Date: 02/09/2004
ISBN: 9780141019000
Free Home Delivery
on all orders
Pick up orders
from local bookshops
Reviews
Showing 1 - 1 of 1 reviews.
Review by pgmcc
16/06/2015
This short book contains four essays dealing with Orwell's reasons for writing, his analysis of England in a time of war, a hanging and the ways people block out the horror of such an event, and the interrelationship between politics and the English language.On the subject of his reasons for writing, Orwell provided four reasons why any writer might write, apart from the need to earn a crust. These four points were, sheer egoism, aesthetic enthusiasm, historical impulse and political purpose. The last point acted as a good primer for the subjects of the other three essays.His analysis of England, "The Lion and the Unicorn", attempted to define the essence of the English. This work was written after the British retreat from Dunkirk and before the D-Day landings. Orwell's essay describes people's expectation that there would be at least another three years of war, and he is very supportive of patriotism to England while at the same time promoting the improvement of the position of the common man."A Hanging" is a brief account of a hanging in India and it leaves little to the imagination. "Politics and the English Language" deals with the way politicians, businesses and newspapers use the English language to say a lot while stating absolutely nothing. He proscribes six rules for the writing of plain English with the objective of actually communicating a message to the biggest number of people. These are:i.Never use a metaphor, simile or other figure of speech which you are used to seeing in print.ii.Never use a long word where a short one will do.iii.If it is possible to cut a word out, always cut it out.iv.Never use the passive where you can use the active.v.Never use a foreign phrase, as scientific word or a jargon word if you can think of an everyday English equivalent.vi.Break any of these rules sooner than say anything outright barbarous.I found this little book to be full of fascinating ideas and socio-political concepts, not to mention great expressions. My copy is full of under linings, margin notes and references scribbled on the inside back cover. Much of the content is as relevant today as it was in the 1940s. We have different pressures today but they are presenting the same social problems that Orwell was discussing in these essays.I was reading two other books around the same time I was reading this book and there was considerable overlap in relation to the language of politicians and people's tendency to ignore difficult issues that are staring them in the face. The other two books were [Wilful Blindness] by Margaret Heffernan and [Spy the Lie] by Philip Houston. I would strongly recommend this book to anyone interested in writing, and anyone who cares about social justice.
Also in the Penguin Great Ideas series | View all