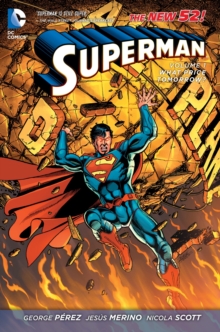 Superman Volume 1: What Price Tomorrow? TP (The New 52)
Paperback
Description
A New York Times Best Seller! As a part of the acclaimed DC Comics- The New 52 event of September 2011, comics legend George Perez andartist Jesus Merino present the new adventures of the Man of Steel!Metropolis fears him.
The Daily Planet agrees. This new volume ofSuperman finds our hero with a startling new status quo.
As Supermanfinds ways to dodge the scrutiny placed upon him by the public and media, hemust stop a monstrous threat to Metropolis - one that he somehow is thecause of!
The next chapter in the legendary history of the Man of Steel is builthere!
Information
Format: Paperback
Pages: 144 pages
Publisher: DC Comics
Publication Date: 01/07/2013
Category: Superheroes
ISBN: 9781401236861
Free Home Delivery
on all orders
Pick up orders
from local bookshops
Reviews
Showing 1 - 1 of 1 reviews.
Review by shanaqui
16/06/2015
This wasn't as bad as I expected from the general trend of reviews on Goodreads. I don't think I'm really a fan of DC's stuff in general, though. I mean, I remember Superman in bright colours, as wholesome as Marvel's Captain America, but here it's all dark and broody. Maybe part of the problem is that I never read the comics before, but was a devotee of the tv series. No, not Smallville -- <I>Lois &amp; Clark: The New Adventures of Superman</i>!Anyway, this was... okay. I liked the redesign of Superman's costume which keeps the important aspects of his iconic image and tweaks things we could do without (the underwear on the outside of his costume thing). I didn't feel strongly about the art either way, though I did feel that the criticisms of the number of panels and cluttered pages are pretty valid.The story is okay, but like I said, there's a lot of dark and broody here, which I thought was more Batman's line. There's some stuff intended to make it relevant and modern, like the Daily Planet's way of dealing with the move to digital media, but all in all, I don't know how that works. In my head, the Daily Planet smells of paper and ink, and Metropolis never really joins the digital age.So the only New 52 titles I've really been interested in following are Batgirl and Batwoman. Hmm.