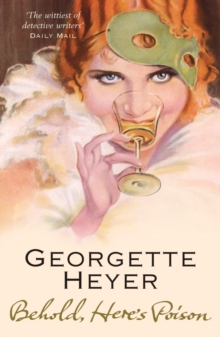 Behold, Here's Poison
Paperback
Description
When Gregory Matthews, patriarch of the Poplars is found dead one morning, imperious Aunt Harriet blames it on the roast duck he ate for supper.
After all, she had warned him about his blood pressure.
But a post-mortem determines that the cause of death is much more sinister.
Murder. By poison. Suspicion falls immediately amongst his bitter, quarrelsome family.
Each has a motive; each, opportunity. It falls to Superintendent Hannasyde to sift through all the secrets and lies and discover just who killed Gregory Matthews, before the killer strikes again...
Information
Format: Paperback
Pages: 320 pages
Publisher: Cornerstone
Publication Date: 06/04/2006
Category: Crime & mystery
ISBN: 9780099493648
Free Home Delivery
on all orders
Pick up orders
from local bookshops
Reviews
Showing 1 - 5 of 5 reviews.
Review by aluvalibri
16/06/2015
A delightful mystery in the classic style of the great writers of the genre.I recomend it to all fans of Agatha Christie, Margery Allingham, Dorothy Sayers, and Michael Innes, to name but a few.Without disclosing the plot (it would not be fair, would it?), I will just say that the story gets more and more interesting as the narration proceeds, until it culminates in the final revelation. The characters are well drawn, some likeable, others not.Go ahead! Read it, and enjoy yourself.
Review by abruno
16/06/2015
Most of you are aware of my love for Georgette Heyer, so it's probably no surprise that I couldn't resist trying out one of her mystery novels. And let me tell you, I was not disappointed! I do believe that this woman could make a grocery list read witty!Behold, Here's Poison is an entertaining little murder mystery with a "Clue" sort of vibe to it. The characters are a little wacky, but in a delightful and amusing way. There's the outrageously thrifty Miss Matthews, moocher extraordinaire Mrs. Matthews and her spawn...and then there's Mr. Randall Matthews, newly made head of the family. I fell in love with his quick tongue and smart remarks...made me laugh out loud a few times, drawing odd looks from my husband!Thanks to Danielle at Sourcebooks for the opportunity to read such a great book! I truly enjoyed it and I think you will too!
Review by riverwillow
16/06/2015
At the heart of this novel is a wonderously dysfunctional family. There's a spinster aunt, who initially blames Gregory Matthew's death on the roast duck he had for dinner, but Gregory was murdered. The household also includes a widowed valetudinarian sister-in-law and her two children. Another, overbearing, sister lives close by with her hen-pecked husband and then there's nephew, and heir, Randall, whose sharp wit and humour are superb. They all had a motive to murder Gregory and its up to Superintended Hannasyde to discover the truth, which of course he does. Wonderful.
Review by KimMR
16/06/2015
I liked the earlier Heyer mysteries I've read much more than this one. My lack of enthusiasm is in some part due to the writing but also due to the very poor audio book version I listened to. The reader made unlikeable characters even more so. Indeed, his rendition of Randall made him so very unlikeable that the already thin romantic sub-plot was made totally unbelievable. I found it fairly easy to work out the identity of the murderer, but not the details of why the murder was committed, so I had a reason to listen through to the end!! I haven't read all of Heyer's mysteries, but of those I have read I think that this is the weakest so far.
Review by veracite
16/06/2015
So far I've determined that Miss Heyer has a type and he's generally very well dressed. <br/><br/>I read this years and years ago but didn't recollect it until the method of murder was revealed. <br/><br/>I expect if you like Wimsey, you'll like this. I'm a little bit over slightly wet young women, though.