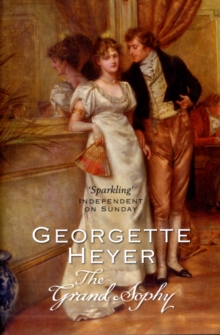 The Grand Sophy
Paperback
Description
When the redoubtable Sir Horace Stanton-Lacy is ordered to South America on Diplomatic Business he parks his only daughter Sophy on his sister in Berkeley Square.
But Sophy's cousins are in a sad tangle. The heartless and tyrannical Charles is betrothed to a pedantic bluestocking almost as tiresome as himself; Cecilia is besotted with a beautiful but quite feather-brained poet; and Hubert has fallen foul of a money-lender.
It looks like the Grand Sophy has arrived just in time to save them all ...The undisputed queen of historical romance shows in Grand Sophy all the wonderful storytelling that won her a huge, devoted readership, which continues to this day.
Information
Format: Paperback
Pages: 336 pages
Publisher: Cornerstone
Publication Date: 03/06/2004
Category: Historical fiction
ISBN: 9780099465638
Other Formats
Paperback from £6.85
CD-Audio from £13.05
EPUB from £2.99
Free Home Delivery
on all orders
Pick up orders
from local bookshops
Reviews
Showing 1 - 5 of 15 reviews.
Previous | Next
Review by eleanorigby
16/06/2015
Probably her best work, or at least in the top three. She is nothing like Barbara Cartland (curse her name!), thank goodness....
Review by debs4jc
16/06/2015
Set in the Victorian Era in England. A family's life is uprooted when the unconventional Sophy arrives. Sophy dares to do things like drive her cousin's team of spirited horses, manage her own money, and meddle in the affairs of her cousins who are on the marriage market. And good for them because Sophy has a lot of good sense and manages to make things come out right in the end. This was a very enjoyable read, I could guess at how it would end way in in advance but it was so satisfying to see how Sophy managed it. I loved the main character's irrepressable charm and intelligence.
Review by patience_crabstick
16/06/2015
Fun! If you distill the fluff out of a Jane Austen novel, the result is a Georgette Heyer novel. This book is loads of fun, witty, elegantly written, clever dialogue, I loved it! This is the first Heyer novel I've ever read, and I will definitely be reading more.
Review by francescadefreitas
16/06/2015
Oh bless, this was just splendid. I think I am now a confirmed Heyer fan, I adored this. The plot might have been predictable, but this might have been the book others were modelled on. An unknown cousin, raised abroad by an unconventional father, comes to stay and shakes a family out of its doldrums.I'd give to any historical romance fan - but they've probably already read it!
Review by Luli81
16/06/2015
My first novel by Heyer, and I wasn't disappointed. It is highly entertaining in the Victorian - Austenian way.Head-strong, unconventional Sophy is left by his father at her Aunt's House so that she introduces her to society and to start thinking of finding her a suitable husband. But Sophy has other plans which change all the lives of her dear cousins. Love or gambling problems are nothing to her, she moves soothingly around and gives comfort to those in need without thinking of herself.But won't she find happiness for herself surprisingly with the person she might have least thought of?Told in an almost casual way, with the apparent pose of the true Victorian times, I followed Sophy's cunning manoeuvrings to get her objectives with a half smile plastered on my face. Even though I knew what would happen after having read 20 pages it was a pleasure to read how she managed it in the end!I found the narrative easy, refreshing and perfect for a light read for those who love Austen and Victorian novels.Enjoy!