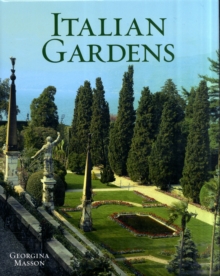 Description
- A completely revised new edition of gifted amateur garden art-historian Georgina Masson's classic text alongside her original photographs, which have been kept until now in the archives of the American Academy in Rome.
Includes many new images Originally published in 1961 as a complementary study to Geoffrey Jellicoe's architectural work Italian Gardens of the Renaissance, this book is intended to present a layman's point of view on the subject.
It provides immediate first impressions of the countless pleasures that are a feast to the senses, while providing a comprehensive background to the gardens, their antecedents and history.
Tracing a line through the history and topography of Italy, Mary Johnson, writing under the pseudonym of Georgina Masson, picks out the finest examples of gardens dating from the Renaissance, Mannerist and Baroque periods.
Primarily, it is a masterpiece of photography, evoking fond memories for those who have already visited the gardens and persuasive to those who have not. Secondly, it is a very able study of the history of Italian gardens from their inception in ancient Rome to the triumphs of the Baroque; no one who encountered Mary when on the full flight of research will forget her total dedication to the subject.
Free Home Delivery
on all orders
Pick up orders
from local bookshops