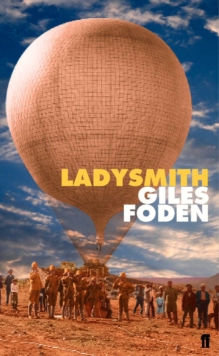 Description
The year is 1899, and Boer forces have surrounded the small South African town.
As shells and shrapnel rain down, British soldiers and townsfolk dig themselves in.
Waiting for rescue, they try to keep up their spirits with parties and cricket matches.
But General Buller's relief column can't break through.
All that comes is danger, disease and starvation. Foden's spellbinding narrative introduces a cast of characters ranging from Irish Republican renegades to London literary editors to some of the most famous faces of the twentieth century. And at the centre is young Bella Kiernan, for whom the long siege represents an unexpected freedom: a chance to break old loyalties and establish new loves.
Inspired by the letters of the author's great-grandfather, a British trooper, this is a powerful fictional recreation of the first modern war.
With its internment camps, war-correspondents and cine-cameras, the siege and its aftermath sowed the seeds of conflicts to come.
Information
Format: Paperback
Pages: 384 pages
Publisher: Faber & Faber
Publication Date: 22/04/2000
ISBN: 9780571203666
Free Home Delivery
on all orders
Pick up orders
from local bookshops
Reviews
Showing 1 - 1 of 1 reviews.
Review by Eyejaybee
16/06/2015
I am feeling slightly ambivalent about this book. After struggling to get into it, I eventually became engaged with it, and am glad that I read it. It has certainly enhanced my knowledge of the Boer War, an era of British History of which I am woefully ignorant. It is set around the prolonged siege of Ladysmith in which the Boers beset the British held town for nearly five months.Foden picks out a handful of characters, including intriguing (presumably factually-based) cameo appearances by Winston Churchill and Mohandas Gandhi, and interlaces his plot around them. The complexities that this throws up are well handled. The first character whom we meet is Kiernan, and Irish Republican on the run from the British authorities with his two infant daughters (Bella and Jane) in tow. In the prologue we find him emigrating in the early 1880s to South Africa in search of a new life beyond the reach of the law, with the aid of Republican funding. The story then moves to Ladysmith in 1899 where British troops are massing, but fearing encirclement by the Boer forces under General Joubert. Kiernan is now the owner of one of the town's leading hotels where Bella and Jan both work behind the bar.We are then introduced to Tom Barnes, a British soldier who is smitten with Bella.Meanwhile, reinforcements are on the way to help the beleaguered British garrison, and a warship laden with troops steams for the Cape. On board, alongside the troops, are a selection of war correspondents including Nevinson, an actual war correspondent renowned as one of the forerunners in that profession. Another notable among the accredited journalists is Winston Churchill.Back in South Africa we meet Mhule, a Zulu who had been indentured to work in goldmines but who is now fleeing with his wife Nandi and son Wellington, for refuge from the advancing Boers. Mhule becomes separated from his family and ends up being wounded and captured by Boers, but is lucky enough to come under the wing of Dr. Sterckx,Foden lays out a vivid series of characters (I have barely scratched the surface), and their stories are all interlaced with each other. However, I felt that the book lacked much overall direction - having worked so hard to set the context and introduce the cast, it is as if he just lost interest!