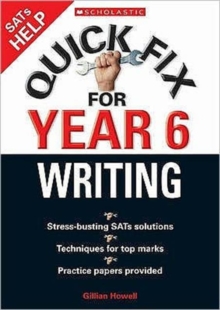 Writing
Paperback / softback
Description
QUICK FIX FOR YEAR SIX provides teachers with a quick SATs revision course for their children.
Each book provides activities on basic skills along with activities that help the children practice those skills that get the most marks.
Practice questions and answers throughout ensure that children and teachers are fully prepared. A calm tone and 'Don't Panic' boxes keep SATs terror at bay. QUICK FIX FOR YEAR SIX: WRITING provides carefully planned activities to prepare children for the SATs Writing paper.
It's 'quick fix' is to teach children to imbed clues in their writing to pick up those top 'inference' marks.
Also in the Quick Fix for Year 6 series