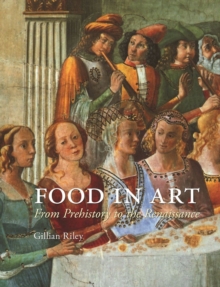 Food in Art : From Prehistory to Renaissance
Hardback
Description
From ancient Rome to early modern Europe, the relationship between humans and food has been portrayed in artworks for thousands of years.
From farming, cooking and feasting scenes depicted in the Middle Ages in books of hours to the fish and fruit of ancient frescoes and mosaics, Food in Art gives fresh insights into how food items were cultivated, hunted, trapped, stored, traded, prepared and served throughout the ages.
In this richly illustrated book, leading food historian Gillian Riley demonstrates how works of art can provide us with detailed information about the preparation and preservation of food that is missing from the history books.
Artists of all periods and in all places have portrayed the tools and environments of the gastronomic world - of the drying, salting or smoking of meat, fish or vegetables, for example - and the enjoyment of eating, from the simplest peasant meals to the grandest banquets.
These works allow us, as twenty-first-century viewers, to appreciate the colours, imagine the smells and salivate over the recipes of the foods, kitchens and dishes of the past.The book also explores the many links between food and myth, religion and legend in an array of artworks: is our perception of fruit in Christian art skewed by their symbolic meaning?Were the golden apples of the Hesperides indeed apples, or were they quinces or oranges?
Covering everything from ancient wall paintings and medieval illuminated manuscripts to stained glass and funerary monuments, Food in Art explores these questions and many more in this aesthetically pleasing and highly readable volume.
Information
Format:Hardback
Pages:288 pages, 170 colour, 10 black & white
Publisher:Reaktion Books
Publication Date:01/10/2014
Category:
ISBN:9781780233628