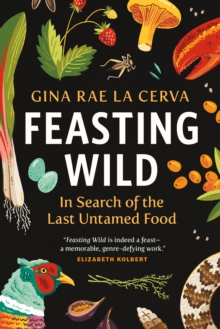 Feasting Wild : In Search of the Last Untamed Food
Hardback
Description
"Delves into not only what we eat around the world, but what we once ate and what we have lost since then." -A New York Times Book Review Summer Reading Selection"A memorable, genre-defying work that blends anthropology and adventure.--Elizabeth Kolbert, New York Times-bestselling author of The Sixth ExtinctionTwo centuries ago, nearly half the North American diet was foraged, hunted, or caught in the wild.
Today, so-called "wild foods" are becoming expensive luxuries, served to the wealthy in top restaurants.
Meanwhile, people who depend on wild foods for survival and sustenance find their lives forever changed as new markets and roads invade the world's last untamed landscapes. In Feasting Wild, geographer and anthropologist Gina Rae La Cerva embarks on a global culinary adventure to trace our relationship to wild foods.
Throughout her travels, La Cerva reflects on how colonialism and the extinction crisis have impacted wild spaces, and reveals what we sacrifice when we domesticate our foods -including biodiversity, Indigenous and women's knowledge, a vital connection to nature, and delicious flavors.
In the Democratic Republic of the Congo, La Cerva investigates the violent "bush meat" trade, tracking elicit delicacies from the rainforests of the Congo Basin to the dinner tables of Europe.
In a Danish cemetery, she forages for wild onions with the esteemed staff of Noma.
In Sweden--after saying goodbye to a man known only as The Hunter--La Cerva smuggles freshly-caught game meat home to New York in her suitcase, for a feast of "heartbreak moose."Thoughtful, ambitious, and wide-ranging, Feasting Wild challenges us to take a closer look at the way we eat today, and introduces an exciting new voice in food journalism. "A food book with a truly original take." -Mark Kurlansky, New York Times bestselling author of Salt: A World History
Information
Format: Hardback
Pages: 336 pages
Publisher: Greystone Books,Canada
Publication Date: 25/06/2020
Category: Literary essays
ISBN: 9781771645331
Free Home Delivery
on all orders
Pick up orders
from local bookshops
Also by Gina Rae La Cerva