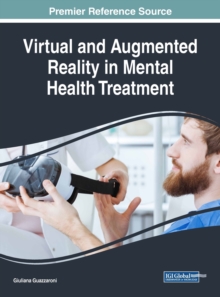 Virtual and Augmented Reality in Mental Health Treatment
Hardback
Description
Medical and technological organizations have recently developed therapy and assistance solutions that venture beyond what is considered conventional for individuals with various mental health conditions and behavioral disorders such as autism, Down syndrome, Alzheimer's disease, anxiety disorders, phobias, and learning difficulties.
Through the use of virtual and augmented reality, researchers are working to provide alternative therapy methods to treat these conditions, while studying the long-term effects the treatment has on patients. Virtual and Augmented Reality in Mental Health Treatment provides innovative insights into the use and durability of virtual reality as a treatment for various behavioral and emotional disorders and health problems.
The content within this publication represents the work of e-learning, digital psychology, and quality of care.
It is designed for psychologists, psychiatrists, professionals, medical staff, educators, and researchers, and covers topics centered on medical and therapeutic applications of artificial intelligence and simulated environment.
Information
Format: Hardback
Pages: 335 pages
Publisher: IGI Global
Publication Date: 30/11/2018
Category: Psychiatry
ISBN: 9781522571681