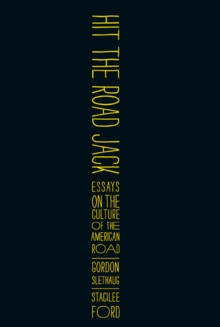 Hit the Road, Jack : Essays on the Culture of the American Road
Paperback / softback
Description
All travelers know the seductive power of the open road and its suggestions of possibility, escape, renewal, and reinvention.
Hit the Road, Jack is an interdisciplinary exploration of the significance of the road as reality and metaphor.
Engaging with varied cultural mediums such as literature, reality television, philosophy, and political rhetoric, this collection delves deeply into the symbolic implications of the road.
Insightful and accessible essays draw upon both classic "road" texts and films, while investigating themes of individual and national freedom, independence and mobility, and destiny.
Referencing postmodern theory, gender and queer studies, as well as personal reminiscence and narrative research, Hit the Road, Jack considers the impact that identity - particularly race, ethnicity, gender, and sexual orientation - has on the way various journeys are taken. While literary depictions of the road have a long history, scholarship about the phenomenon is sparse.
This anthology makes a significant contribution to the study of the road, bringing to light aspects of its iconic status in American culture. Contributors include Paul Attinello (Newcastle University), Stacilee Ford (University of Hong Kong), Eleanor Heginbotham (University of Maryland), Susan Kuyper (Des Moines Area Community College), Gina Marchetti (University of Hong Kong), Cotton Seiler (Dickinson University), Max J.
Skidmore (University of Missouri-Kansas City), Gordon Slethaug (University of Southern Denmark), Michael Truscello (Mount Royal University), and Wendy Zierler (Hebrew Union College -Jewish Institute of Religion, New York).
Information
Format: Paperback / softback
Pages: 344 pages
Publisher: McGill-Queen's University Press
Publication Date: 24/10/2012
Category: Cultural studies
ISBN: 9780773540767
Also by Gordon E. Slethaug