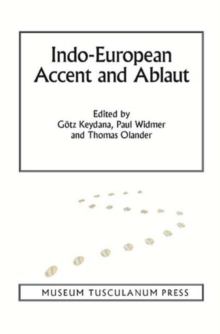 Indo-European Accent and Ablaut
Hardback
Description
Ablaut--the grammatically conditioned vowel alternations found, for example, in the English verb "sing" (sing, sang, sung)--is one of the most characteristic features of the Indo-European languages.
Indo-European Accent and Ablaut investigates the relationship between ablaut and accent in Indo-European languages and in their predecessor--Proto-Indo-European.
It offers a thorough overview of the most recent scholarship on ablaut and accent by some of today's most expert linguists.
With attention to both theoretical understandings and specific linguistic materials, the contributors discuss an array of empirical and methodological issues in researching these key linguistic phenomena, and in doing so they open up new horizons for research.
Information
Format:Hardback
Pages:207 pages
Publisher:Museum Tusculanum Press
Publication Date:15/05/2013
Category:
ISBN:9788763540438