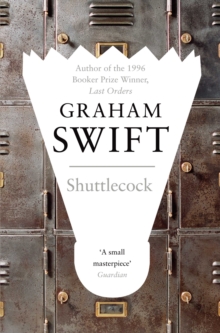 Description
'Serious, moving and often very funny indeed' Observer Prentis, senior clerk in the 'dead crimes' department of police archives, is becoming more and more confused.
Alienated from his wife and children, and obsessed by his father, a wartime hero now the mute inmate of a mental hospital, Prentis feels increasingly unsettled as his enigmatic boss, Mr Quinn, turns his investigation towards him -- and his father.
Gradually Prentis suspects that his father's breakdown and Quinn's menacing behaviour are connected and the link is to be found in his father's memoirs, 'Shuttlecock' ...'Excellent, profound' Alan Hollinghurst, London Review of Books 'An astonishing study of forms of guilt, laced with a thread of detection, and puckering now and then into outrageous humour' Sunday Times 'A superbly written claustrophobic account of power that corrupts private and public life and of guilt that becomes obsession' Daily Telegraph 'Swift's central strength as a writer is his integrity.
Story and character are treated with a seriousness and respect that while allowing for the oddity of human behaviour -- Shuttlecock is thoroughly and beautifully odd -- always honours them' Times Literary Supplement
Information
Format: Paperback
Pages: 256 pages
Publisher: Pan Macmillan
Publication Date: 02/04/2010
ISBN: 9780330518253
Free Home Delivery
on all orders
Pick up orders
from local bookshops
Reviews
Showing 1 - 1 of 1 reviews.
Review by Bridgey
16/06/2015
A bit of a strange one this. The novel is essentially made up of two different tales that sort of converge at the end. Set when the book was written (80's) it follows the life of Prentis. Prentis is a married father of two boys, he works as an office bound investigator of past crimes. The story is written in the first person allowing us to learn his disturbed thought and reasoning behind the treatment of his family. Prentis comes across as extremely unlikable and paranoid. He is convinced that an ongoing investigation he is being asked to look into, involves him and his father and as he digs deeper and deeper (at the expense of his deteriorating home life) the more paranoid he becomes. Disillusioned with his lot in life he tries to force respect from his children and wife but only succeeds in alienating himself further.The second tale relates to his father who is currently in a nursing home, and not been able to speak for number of months due to a mental trauma. When a young man he was employed as a secret agent during the war and known under the code name 'Shuttlecock', captured as a prisoner of war he later recounts his experiences in a published autobiography. Prentis becomes fascinated with this book and tries to find the answer for his fathers condition within the pages, reading and rereading them. I don't know why, and it's not something I can easily pinpoint but I just did not enjoy the novel, often as a reader I myself felt left out of plot (in particular following the case where suspects were only referred to as letters). I found the narrative too disjointed and struggled to maintain interest. I can see why other readers have awarded the book 5 stars and I am sure that it has a lot more to offer than I was able to take from it. But, to be honest, it captivated me so little that I just couldn't be bothered trying to find it.