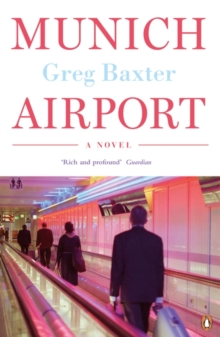 Description
Munich Airport: the brilliant, haunting new novel by Greg BaxterAn American expat in London, about to enter a meeting, takes a phone call.
The caller is a German policewoman. The news she has to convey is almost incomprehensible: the man's sister, Miriam, has been found dead in her Berlin flat, of starvation.
Three weeks later, the man, his elderly father, and an American consular official find themselves in an almost unbearably strange place: a fogbound Munich Airport, where Miriam's coffin is to be loaded onto a commercial jet.
Greg Baxter's extraordinary novel tells the story of these three people over those three weeks of waiting for Miriam's body to be released, sifting through her possessions, and trying to work out what could have led her to her awful death. Munich Airport is a novel about the meaning of home, and about the families we improvise when our real families fall apart.
It is a gripping, daring and mesmeric read from one of the most gifted young novelists currently at work.Greg Baxter was born in Texas in 1974.
He lived for a number of years in Dublin, and now lives in Berlin.
He is the author of two previous highly acclaimed books: A Preparation for Death, a memoir, and The Apartment, a novel.'This rich and profound book is full of philosophical ideas and stark, ascetic beauty ...
The writing is scrupulous and often superb ... I wholeheartedly recommend Munich Airport to everyone interested in the ongoing and fascinating human conversation that is first-rate fiction.' Guardian'Quiet but mesmeric ...
The three central characters are beautifully drawn, their personalities unveiled for us during a series of understated revelations...It is a novel that, without a trace of sentimentality, is about the importance of family, and conversely how the existential loneliness of each of the characters has impoverished their lives' Independent'A story ... about the age in which we live, the nature of consumption, and the terrors that beset us and alienate us from ourselves and each other. ... So much more bracing and consequential than the bulk of contemporary fiction' Irish Times'Assured and fluent ... a forensic examination of what it means today to be a man, and to be human' TLS'Honest, bracing and eloquent ...
Munich Airport is a brilliant achievement' Wall Street Journal'A writer of courage and lucidity.
His fluent and assured prose owes some debt to the Austro-Hungarian Franz Kafka and the Austrian Thomas Bernhard. ... Baxter is high literature' New York Times
Information
Format: Paperback
Pages: 272 pages
Publisher: Penguin Books Ltd
Publication Date: 02/04/2015
ISBN: 9780241969984
Other Formats
Hardback from £11.25
EPUB from £3.99
Free Home Delivery
on all orders
Pick up orders
from local bookshops
Reviews
Showing 1 - 1 of 1 reviews.
Review by RandyMetcalfe
10/11/2015
An ex-pat American living in London learns that his sister, Miriam, who had been living in Berlin has died of starvation. The news is both a shock and possibly expected. At any rate, it catalyses arcane reactions in her brother, who has not spoken to her in at least five years, and in their elderly widowed father whose estrangement from her extends even further into the past. Father and son meet in Berlin and undertake the repatriation of the body with the help of a consular official named Trish. Apparently standard bureaucratic delay prevents the release of the body for more than two weeks. And in that time both father and son, and to a lesser extent Trish, undergo flights of alienation and excess — renting a furnished luxury penthouse, hiring a car to undertake a trip down the Rhine and into Belgium and Luxembourg, immodest gourmandising, drinking to excess, sexual profligacy, and self-harm. This, followed by a starvation diet which may purge them of both their excess and their reason. Once Miriam's body is released, they can begin their journey home. The father has chosen to fly them all out of Munich Airport so that they will not need to change planes, but when they reach Munich, the airport is socked in with heavy sleet and fog. So much so that their flight — indeed all flights — has been delayed interminably. And this is where we pick up the story with the brother narrating their current predicament interspersed with reflections on what has preceded that in the previous two weeks as well as earlier moments in the lives of Miriam, her brother and her father.In the stateless state of those who have already passed through security at an international airport, grounded by the murky fog that paralyses airports and action, and faced with a constitutional ambivalence about his father, himself and everything else, we follow the brother's not always trustworthy impressions. But ultimately nothing is clear or fully explained. An underlying sense of menace pervades but it has no clear source. Emotions are fractured and changeable. And perhaps the only moments of clarity come when the son speaks about the advent of twelve-tone music and especially the music of Alban Berg.That singular break with tonality seems also to be the model for Baxter's treatment of the novel. Not so much a case of anti-narrative as the abandonment of narrative, or rather narrative as the underpinning structure of the novel. Themes of death and excess cross against those of loss and abandonment or harm and self-harm. But there is no centre, per se, and so we are carried along solely by the power of Baxter's prose itself. And what prose that is! I was transfixed. Constantly unsettled. And ultimately a bit in awe. This is a novel that warrants re-reading almost immediately. Highly recommended.