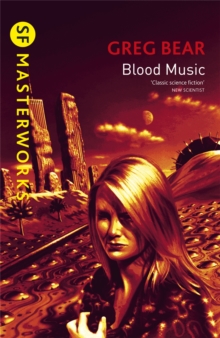 Description
In the tradition of the greatest cyberpunk novels, Blood Music explores the imminent destruction of mankind and the fear of mass destruction by technological advancements.
Blood Music follows present-day events in which the fears concerning the nuclear annihilation of the world subsided after the Cold War and the fear of chemical warfare spilled over into the empty void of nuclear fear.
An amazing breakthrough in genetic engineering made by Vergil Ulam is considered too dangerous for further research, but rather than destroy his work, he injects himself with his creation and walks out of his lab, unaware of just quite how his actions will change the world.
Author Greg Bear's treatment of the traditional tale of scientific hubris is both suspenseful and a compelling portrait of a new intelligence emerging amongst us, irrevocably changing our world.
Information
Format: Paperback
Pages: 272 pages
Publisher: Orion Publishing Co
Publication Date: 01/04/2001
Category: Science fiction
ISBN: 9781857987621
Free Home Delivery
on all orders
Pick up orders
from local bookshops
Reviews
Showing 1 - 1 of 1 reviews.
Review by reading_fox
16/06/2015
Unusual. All the way through this I had the odd sensation that I'd read it or something very similar before. It never came to me what it was.The basic premise is something that has definetly been the subject of many novels, but Bear writing in the 80s will have been at the forefront. It has taken a couple of decades for the biotech industry to reach the prevalence in understanding it now holds. This unfortunately means we understand a lot more than we did then, and many of concepts are now out-of-date or just downright impossible. Also seriously dating the novel is the computer technology. Considering it was published '85, Bear did quite well at predicting it's widespread uptake in laboratories et al, but the continued references to VDTs (presumably Visual Display Terminals) grates every single time.Virgil Ulam is your almost stereotypical mad scientist, poor social skills, but technically brilliant. As a sideline to the work he's supposed to be doing for a new BioTech start-up (also a very good prescience from the 80s), he starts looking at introns (non replicating parts of DNA) within simple cells. He manages to get them to replicate, massively increasing the information storage and hence processing capabilities of the cells (this is the bit that's completely impossible) He know's he has suceeded in doing this because they can run mazes just like lab rats. Being a mad scientist however means that he isn't that hot on security, and so he gets found out. Just before he gets canned, he takes the desperate step of injecting hmself with his 'clever' cell lines. Secure in the knoweldge that only he understands, he knows he has a couple of weeks to find an new job in another lab where he can continue to work on the cells. After all they're only cells like any other in his body, and what harm could it do?The rest of the book covers the details of precisely what the consequences can be of not knowing what you are doing. As seen by the very few survivors who happen to be genetically compatible. Annoyingly the tale form his mother's POV is left incomplete. I don't think this is an anti-GM creed in the way that Jurrasic Park might be, but the basic message - Be extremely careful if you don't fully understand what it is you are experimenting with - remains the same. The actual technological suggestions aren't to be taken seriously, the consequences are. Bear doesn't write the most empathic characters going, he is much more ideas orientated, and as such this isn't a particularly gripping novel. But it's readable enough and even though badly dated at times the background principles remain awe inspiring.
Also in the Gollancz S.F. series | View all