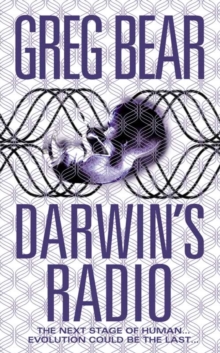 Description
A terrifying disease, or the next step in human evolution?
Three scientists must battle to find the truth in this heart-stopping technothriller.Mitch Rafelson makes a major discovery high in the Alps - the preserved bodies of a Neanderthal family with a human child.Kaye Lang investigates a mass grave in the Caucasus - the bodies are mutated.Christopher Dicken tracks a mysterious flu-like disease that causes pregnant women to miscarry.Together, these three scientists discover that so-called junk genes, dormant in our DNA for millions of years, are waking up.
A signal from Darwin's radio has triggered the next step in human evolution.The women who miscarry become inexplicably pregnant again.
However, this time they are carriers of Homo sapiens novus.
But there is mass panic, official denial, draconian measures against the terrible `disease'.
Only Mitch, Kaye and Dicken can solve the evolutionary puzzle that will determine the future of the human race, if a future exists at all.
Information
Format: Paperback
Pages: 448 pages
Publisher: HarperCollins Publishers
Publication Date: 04/03/2000
Category: Science fiction
ISBN: 9780006511380
Free Home Delivery
on all orders
Pick up orders
from local bookshops
Reviews
Showing 1 - 5 of 7 reviews.
Previous | Next
Review by chrisada
16/06/2015
The science is very solid and intrguing, as science should be. This work plays with an alternative theory of evolution and integrated it well with current world situation.
Review by DCEFrance
16/06/2015
It's rare that I don't finish a book. I never finished this one. I made it at least three-fourths in but finally gave up.It's also rare that science bores me. I love science fiction, especially technology, and normally enjoy following the scientific background.I never saw the interest in this book nor in the characters and finally gave up. I also own the sequel and never started it.
A very interesting story about the continued evolution of human kind. The story has a few dead spots but is certainly good enough to carry you through to the end which definitely leaves you wanting more, which there fortunately is in the form of Darwin's Children.
Review by lewispike
16/06/2015
People discover active retroviral genes in the human genome. This suddenly develops into a new plague to rival HIV, and there are worse things to come (that all count as spoilers).The science is pretty solid - it's speculative fiction, but it's plausible, mostly. Oddly for a book which is hard sci-fi of a biological nature, I found the behaviour of the society far more compelling than the science - I think that's a testament to the plausability of the science though, it lay in the background for me and worked.
Review by Gwendydd
16/06/2015
Very absorbing, quick read. The characters are convincing, and the main characters are likeable, so you care about what happens to them. Bear does a good job of making some rather abstract science seem very real, and of showing the implications throughout society of such genetic changes.