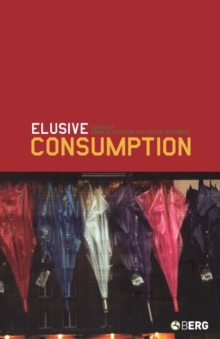 Elusive Consumption
Paperback / softback
Description
In the context of rising consumerism and globalization, books on consumption are numerous.
These tend to be firmly rooted in particular disciplines, however sociology, anthropology, business or cultural studies and as a result often present a blinkered view.
Charged with the mission of unravelling what consumption means and how it operates, the worlds leading experts were flown to a secluded location in Sweden to 'battle it out'.
This pioneering book represents the outcome. Ranging from the 'little black dress' to on-line communities, Elusive Consumption challenges our very understanding of consumerism.
How successful is the advertising world in manipulating our buying patterns?
Does the global marketplace promote cultural homogeneity or heterogeneity?
Is the West really more of a 'consumerist civilization' than other countries?
Does the advertising of certain products influence a voters choice of political party?
How are products associated and marketed to different genders?
These controversial topics and many more are discussed.
Covering virtually every aspect of the word 'consumerism', Elusive Consumption provides a state-of-the-art view of the highly commercialized society we inhabit today.
Some might have it that consumers are unwitting pawns, completely lacking in agency.
Others might argue that consumer choices are empowering and subtly shape production.
Richard Wilk, Colin Campbell, John F. Sherry, Richard Elliott, Russell Belk, and Daniel Miller who offers the most persuasive argument in this battle royal?
Information
Format: Paperback / softback
Pages: 256 pages
Publisher: Taylor & Francis Ltd
Publication Date: 01/03/2004
Category: Cultural studies
ISBN: 9781859737682