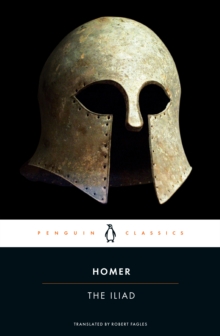 Description
A work of tremendous influence that has inspired writers from his ancient Greek contemporaries to modernist writers such as T.S.
Eliot, Homer's epic poem The Iliad is translated by Robert Fagles with an introduction and notes by Bernard Knox in Penguin Classics.One of the foremost achievements in Western literature, Homer's Iliad tells the story of the darkest episode in the Trojan War.
At its centre is Achilles, the greatest warrior-champion of the Greeks, and his refusal to fight after being humiliated by his leader Agamemnon.
But when the Trojan Hector kills Achilles' close friend Patroclus, Achilles storms back into battle to take revenge - although knowing this will ensure his own early death.
Interwoven with this tragic sequence of events are powerfully moving descriptions of the ebb and flow of battle, of the domestic world inside Troy's besieged city of Ilium, and of the conflicts between the Gods on Olympus as they argue over the fate of mortals.Seven Greek cities claim the honour of being the birthplace of Homer (c. 8th-7th century BC), the poet to whom the composition of the Iliad and Odyssey are attributed.
The Iliad is the oldest surviving work of Western literature, but the identity - or even the existence - of Homer himself is a complete mystery, with no reliable biographical information having survived.If you enjoyed The Iliad, you might like The Odyssey, also available in Penguin Classics.'An astonishing performance'Peter Levi'Plain and direct, noble, above all rapid ... leading the reader forward with an irresistible flow. [Fagles'] version is imbued with humanity'Oliver Taplin, The New York Times Book Review'Robert Fagles has given us an Iliad to read aloud: eloquent, rhythmical, and full of power'Jasper Griffin, Oxford University
Information
Format: Paperback
Pages: 704 pages
Publisher: Penguin Books Ltd
Publication Date: 01/07/1991
Category: Poetry by individual poets
ISBN: 9780140445923
Other Formats
Paperback from £2.50
Hardback from £9.69
CD-Audio from £13.05
Free Home Delivery
on all orders
Pick up orders
from local bookshops
Reviews
Showing 1 - 5 of 7 reviews.
Previous | Next
Review by woctune
16/06/2015
Hector, Achilles, Odysseus, Zeus, Athena, Priam... it doesn't get any better. Some mornings I look out the window and still think "rosy fingertips of dawn". This translation is very vivid and readable, though not as precise as the Lattimore... or at least that's what I remember from college.
Review by desultory
16/06/2015
I've got the E V Rieu translation - a bit stodgy. It makes Homer sound like he went to an English public school. That can't be right.
Review by mikebridge
16/06/2015
This book is one of the few that always seems to be with me. Knowing only that it was about war and that the Odyssey was about a high-seas adventure I thought that I would much prefer the latter. But the Iliad sticks in my mind. I often find myself thinking particularly of Achilles. He is a character whom everyone in the book speaks of as the greatest hero, yet's he's an emotionally-stunted killing machine. I was initially repulsed by his character (and still wouldn't want to be like him or with people like him). Yet I keep thinking about it, and this character---and his enlightenment at the end---made an indelible impression. Achilles vs. Agamemnon is everywhere---in every road rage incident, internet forum flame war, or office blowup. It's one of the handful of books I will read repeatedly and give to my son when he's old enough.(The Fagles translation is clear and readable, which is what I wanted, but it's not particularly poetic.)
Review by benmartin79
16/06/2015
First off, I first read the complete Iliad in Fagles' translation. It is, let me use the cliche, vibrant. If you've found the Iliad boring in the past, you might try it. Anyway...The Iliad is, in short, brilliant; read it. Just keep an open eye: the is no mere adventure or fantasy story (though arguably it's excellent on that level too), and if you go looking for that, you're likely to miss all the reasons people like it. It is, no doubt, ostensibly a story about war (or at least, one man's part in a war), but as an epic it doesn't fail to address many other themes. In fact it seems on the whole concerned with the general misery of human existence, describing as it does a war fought by persons who would much rather be doing something else, goaded on and manipulated by capricious gods, who are themselves subject ruthlessly and painfully to the force of fate. Modern readers may find the intervention of the gods, and probably fate too, to be odd, but most will probably find the description of war and human conduct in all spheres to be worthy of consideration.Besides its thematic and anthropological depth (and besides the large body of mythology for those into that sort of thing) the Iliad has two other important things to offer: poetry and drama. I can't say anything about the poetry of the original Greek, since my Greek is for now nearly non-existent, but one can't doubt that The Iliad has given many translators a good scaffold on which to build their own solid poetry. Even more significant though, The Iliad manages a dramatic quality that you might expect from a Shakespeare tragedy. It's full of hyperbolic action and dramatic monologues (and saving some of its best lines for them too), it revels in situational irony and pathos.To demonstrate several of these points I leave you unannotated an excerpt from one of my favorite speeches in the Iliad, again in Fagles' translation (slight spoiler alert, as it were):"'Come, Friend, you too must die. Why moan about it so?Even Patroclus died, a far, far better man than you.And look, you see how handsome and powerful I am?The son of a great man, the mother who gave me life--A deathless goddess. But even for me, I tell you,Death and the strong force of fate are waiting. '"
Review by rameau
16/06/2015
Three things about The Iliad. 1. There are quite a few metaphors about lions, who either kill cattle or sheep or are hunted in turn. 3,000 years ago Greece was overrun with lions.2. It's interesting that one of the first long narratives in human has no suspense. The sack of Troy is a foregone conclusion. Even Achilles knows his fate. 3. I read Fagles' translation. I love it, but I think Fitzgerald is slightly better at conveying the strangeness of this world even if that does lead him astray sometimes.