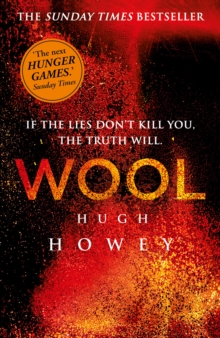 Description
"The next Hunger Games". (The Sunday Times). "Well written, tense, and immensely satisfying, Wool will be considered a classic for many years in the future". (Wired). "Thrilling, thought-provoking and memorable ...one of dystopian fiction's masterpieces alongside the likes of 1984 and Brave New World". (Daily Express). "Howey's Wool is an epic feat of imagination. You will live in this world". (Justin Cronin). "Wool is frightening, fascinating, and addictive. In one word, terrific". (Kathy Reichs). In a ruined and hostile landscape, in a future few have been unlucky enough to survive, a community exists in a giant underground silo.
Inside, men and women live an enclosed life full of rules and regulations, of secrets and lies.
To live, you must follow the rules. But some don't. These are the dangerous ones; these are the people who dare to hope and dream, and who infect others with their optimism.
Their punishment is simple and deadly. They are allowed outside. Jules is one of these people. She may well be the last.
Information
Format: Paperback
Pages: 576 pages
Publisher: Cornerstone
Publication Date: 01/04/2013
Category: Science fiction
ISBN: 9780099580485
Other Formats
Paperback from £7.09
Hardback from £11.25
EPUB from £4.99
Free Home Delivery
on all orders
Pick up orders
from local bookshops
Reviews
Showing 1 - 5 of 5 reviews.
Review by AdonisGuilfoyle
16/06/2015
All I can say is, what a fabulously crafty concept - simple yet thought-provoking - and why did it take me so long to start reading the trilogy? All those rave reviews on Amazon and the like are spot on for once, this has to be the best sci-fi novel of the year for me. At first, the plot of <i>Wool</I> reminded me of old <I>Star Trek</I> episodes (a lot of things do), where the population of a Class M planet have been happily living primitive lives for thousands of years, until Kirk and the Enterprise crew beam down and inform them that they are being controlled by a computer/are actually on a spaceship/are being controlled by a computer (that happened a lot). Howey plays a neat trick in the opening chapters with a fake reveal, but the truth is far more sinister. I grew really attached to Juliette, Lukas, Solo and the others, and I'm very glad that there's more to come - particularly as the ending seemed slightly rushed. The world-building and character development are so detailed and gradual that any swift shift from crisis to resolution must seem a bit jarring, and I was satisfied by the outcome, but still felt slightly cheated.
Review by Iira
16/06/2015
I love a good dystopia. Can't help it. Wool was a good one, could have been better and more credible at times, but I'm still giving it 5 stars. There.
Review by Mooose
16/06/2015
Fantastic novel set in post-apoc. world. I've already put the rest of the series on hold. Have suggested this to a few other people and they have all liked it too and plan on reading the next ones.
Review by rlangston
09/10/2015
Gripping story and interesting (though two dimensional) setting. I immediately want to read the next in the trilogy.
Review by sscarllet
16/06/2015
I've been lucky to read a lot of good books this year but this one was perhaps the one I had the most problems putting down. Howey created an entire underground world and introduced his readers to it in the most ingenious manor. Having the mayor and the sherriff climb through the entire depth of the silo couldn't have been better. The story moved along while the background was set up. It was just amazing.<br/><br/>Howey managed to create characters that within sentences I was attached to and mourned the fates of, even though the mc doesn't show up until 100 pages or so into the book. <br/><br/>It was really nice reading a dystopian novel that wasn't young adult and wasn't full of technical mumbo jumbo. This was really a fantastic read.