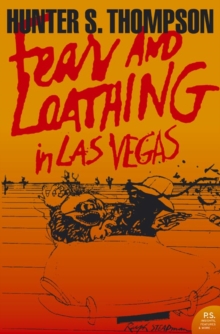 Fear And Loathing In Las Vegas
Paperback
Description
`We were somewhere around Barstow on the edge of the desert when the drugs began to take hold.
I remember saying something like, "I feel a bit lightheaded; maybe you should drive ..."'Hunter S.
Thompson is roaring down the desert highway to Las Vegas with his attorney, the Samoan, to find the dark side of the American Dream.
Armed with a drug arsenal of stupendous proportions, the duo engage in a surreal succession of chemically enhanced confrontations with casino operators, police officers and assorted Middle Americans.This stylish reissue of Hunter S.
Thompson's iconic masterpiece, a controversial bestseller when it appeared in 1971, features the brilliant Ralph Steadman illustrations of the original.
It brings to a new generation the hallucinatory humour and nightmare terror of Hunter S.
Thompson's musings on the collapse of the American Dream.
Information
Format: Paperback
Pages: 240 pages
Publisher: HarperCollins Publishers
Publication Date: 01/04/2005
ISBN: 9780007204496
Free Home Delivery
on all orders
Pick up orders
from local bookshops
Reviews
Showing 1 - 5 of 6 reviews.
Previous | Next
Review by soylentgreen23
16/06/2015
"Fear and Loathing" is an incredible piece of fiction - Thompson and Mr Gonzo going on an extreme road trip into Las Vegas, and into its heart, all while pumped up on drugs of every variety. It feels like one massive trip, just reading the book - the characters are terrifying, and the world they inhabit equally so.
Review by edgeworth
16/06/2015
I really loved this, which I wasn't expecting too. I haven't seen the movie, and all I knew about the book was that it was a semi-autobiography detailing the drug-addled adventures of an acid-soaked writer during one week in Vegas. I was dubious as to how entertaining that might be. I needn't have worried.I'm not sure how closely the story correlates to real life, but essentially, Thompson (as his alter ego Raoul Duke) is sent to Las Vegas to cover a racing tournament, and brings along his gigantic Samoan attorney who is as much of an irredeemable basehead as he is. The duo spend a week roaring around Vegas in a red convertible, the trunk containing enough drugs to "kill an entire platoon of United States Marines," and essentially bare their asses at every law they find. They trash hotel rooms, terrify hitchhikers, and infiltrate a police convention on drug crimes, all while speeding off their heads and hallucinating about "huge pterodactyls lumbering around the corridors in pools of fresh blood" or "two women fucking a polar bear." The sense of an alternately fascinating and horrifying seven day drug trip is perfectly supplemented by Ralph Steadman's grotesque, blotchy illustrations, scattered throughout the book (my only complaint is that the scenes they depict usually occurred about twelve pages ago).You'd imagine that two hundred pages of acid trips would grow old fast, but Thompson's skill as a writer is such that it maintains its lustre all the way through. Raoul Duke is one of those loveable characters who lives purely on fanatical, reckless impulse, with no consequences to either his freedom or health. Any real person who took the amount of drugs Raoul and his attorney do would be dead in seconds and probably also find themselves immortalised as an oddity in a journal of medicine. Likewise, a brush with the law and twenty years in prison would also be inevitable; unlike the health consequences, however, Thompson sweats over this with constant paranoia. Fortunately for the reader, he has a great sense of humour about it all.My favourite quote, on the topic of highway police:"No cop was ever born who isn't a sucker for a finely-executed high-speed Controlled Drift all the way around one of those cloverleaf freeway interchanges."The place of Fear and Loathing in Las Vegas as a watershed moment in twentieth century culture was deservedly won. There's a whole slew of themes and messages in this book, which Thompson described as a "vile epitaph for the drug culture of the sixties," but I was enjoying it too much to bother thinking about them. Fundamentally, it's just an exhilerating, high-octane journey through the neon lights, vomit-streaked hotel rooms and warped culture of 1971 Las Vegas. A hell of a toboggan ride!
Review by StuartAston
16/06/2015
Now this was wierd and quirky. Reading the blurb before starting as well you could definately imagine this being made into a Terry Gilliam film as well - right down his street.This book follows Thompson and his attorney, a large Samoan, on a drug crazed trip through Las Vegas. They run up debts, gate crash a Police Conference on Narcotics, follow the Mint 400 car race and run up debts and destruction at each hotel they stay at.It is the nearest thing to a drug enhanced trip that I will ever get. And to be honest you have to be concentrating to keep up with the logic and storyline at times - but it is worth it. Especially when butt naked and puking up they still manage to convince the housemaid they are undercover cops and get her to be a snitch!
Review by elliepotten
16/06/2015
I was a little intimidated at the thought of starting this book, and yet again I was overjoyed to find that I am, in fact, a grown up after all and can handle a cult classic with the best of 'em. I don't know why it's such a surprise really, because so often when I've been daunted by a book I've found my fears to be completely unfounded.Anyway. This book is mad. Funny, chaotic and mad. I can see why it made such a good film, and why Johnny Depp fit the lead role so perfectly. Not that I've seen the film, but I've ordered a copy and from the trailer (at the bottom of the post, if you've been living under a rock like me) it looks pretty close to the original, certainly in spirit! Basically, <i>Fear and Loathing</i> is a semi-journalistic, semi-fictional, semi-situations-have-been-altered-for-artistic-reasons journey through the heart of early-seventies Las Vegas, set against the shifting drug culture and the dissipation of the hippie idealism of the sixties.This is a time when the American Dream is falling apart. When money talks, the power of the masses is seeping away, 'consciousness expanding' drugs are disappearing from fashionable circles, and flower power is transforming into something darker, dirtier and a whole lot more seedy. At the heart of the book, Raoul Duke (Thompson's persona), his attorney and a very nice Red Shark convertible loaded with a medley of dangerous substances coast through conventions and rallies, bars and casinos, seeking the remnants of the American Dream and getting amazingly loaded along the way. Part 1 is about their 'coverage' (I use the term loosely) of the Mint 400 race in the Nevada desert, and Part 2 documents their return to Las Vegas to gatecrash the National District Attorneys' Conference on Narcotics and Dangerous Drugs (there might be samples!). It's always difficult to describe and review such a crazy book, so instead I'll just say that it's pretty damn brilliant. It made me chortle aloud plenty of times, yet also had some quite poignant and downright repulsive moments that brought home the futility of their search for meaning, and the decidedly less-than-glamorous world a junkie inhabits. Mostly though, it was the best kind of farcical comedy - funny, ridiculous, outrageous, gutsy and I never quite knew what was going to happen next!
Review by PilgrimJess
16/06/2015
This is a book which I have looked forward to reading for a while and now I've done so I feel rather deflated because if truth be told I just did not get it, in truth this is one of the very few occasions where I felt that the film was better than the book. Then I guess that it is what I like to refer to as a marmite book, you either love it or hate it.Those who don't know the story it is a semi-journalistic, semi-fictional account of a trip that the author made to Las Vegas with his attorney at the height of the Vietnam War, flower power and amidst a burgeoning drugs culture. This was supposed to be an expose on the death of the 'American Dream' and the blurb talked of "perilous, chemically enhanced confrontations with casino operators, police officers and assorted Middle Americans" so I was expecting some close encounters with thugs and red-necks. Instead we seem to have two characters who seem to lack any aim other than be totally boorish while striving to stay out of prison. Both are selfish, arrogant, obnoxious and irresponsible individuals who go around terrorizing maids and waitresses.Perhaps it is down to a lack of taking illegal drugs in my youth but I really failed to connect with the characters or the story, such as it was, and while I did smirk on a few occasions if it were not for the originality of the book and the ease of the author's prose this would probably have scored less. If you want an enjoyable, crazy weekend I suggest you get some friends and go out and live it rather than read about someone else doing so. I suggest that it will probably create a more lasting memory, failing that try having half a dozen cans of Special Brew first.
Also in the Harper Perennial Modern Classics series | View all