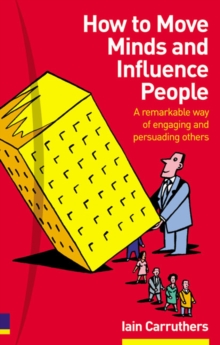 How to Move Minds and Influence People : A Remarkable Way of Engaging and Persuading Others
Paperback
Description
If you are running a project, leading a team or trying to win a contract, think about the people you need to influence.
What if you could get behind their scepticism or defences?
What if they could see the world from your vantage, and enjoy the view?
What if they could see just what was possible?This book has a simple aim: to help you influence people by firing their imaginations.
Don't argue with them. Don't proposition them. Let a well chosen story or stories smuggle in what you need them to know.
You don't need special skills or a silky smooth voice.
You just need to take a few practical steps and soon the unlikeliest of people will be eating out of your hand.
Inside you'll discover:Ideas and tools to help you influence others in your working life How to craft a story to an audience and their needs How to understand and tell your own story This book will show you how to create a story to influence anybody, in any situation.
Whether you are trying to influence a single person or a room full of expectant or cynical faces, discover how to make your point, change others' minds, and carry people with you.
Free Home Delivery
on all orders
Pick up orders
from local bookshops