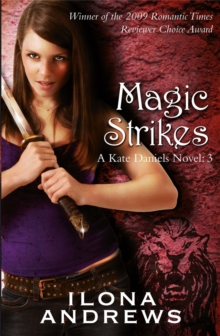 Magic Strikes : A Kate Daniels Novel: 3
Paperback
Description
When magic strikes and Atlanta goes to pieces, it's a job for Kate Daniels!Drafted into working for the Order of Merciful Aid, mercenary Kate Daniels has more paranormal problems than she knows what to do with these days. And in Atlanta, where magic comes and goes like the tide, that's saying a lot.But when Kate's werewolf friend Derek is discovered nearly dead, she must confront her greatest challenge yet.
As her investigation leads her to the Midnight Games - an invitation-only, no-holds-barred ultimate preternatural fighting tournament - she and Curran, the Lord of the Beasts, uncover a dark plot that may forever alter the face of Atlanta's shapeshifting community ...
Information
Format: Paperback
Pages: 320 pages
Publisher: Orion Publishing Co
Publication Date: 01/11/2010
Category: Fantasy
ISBN: 9780575093959
Free Home Delivery
on all orders
Pick up orders
from local bookshops
Reviews
Showing 1 - 4 of 4 reviews.
Review by blodeuedd
16/06/2015
My thoughts:You all knew this day would come, I am officially converted and can say that this series kicks some serious ass. I kept reading, giggling and laughing, this book is certainly the best so far and if this continues I my heart will be lost. Kate is a great character, strong, and she does not back down. I got the meet the pervy Saiman again, and he does amuse me. Then there is Curran, ok ok I admit he makes me drool, but my heart is not entirely lost, he is just too alpha for me. But for Kate he is perfect. Those two, the chemistry, and him trying to woo her his way. Makes it really hard for a girl to put this book down.Then there is the action that keeps coming, the best part of UF. And this freaky world, loving it. This time bad guys are, I am not going to say, but I like where she took it, oh and what Saiman really is, very nice.But honestly what keeps making me coming back is her origin. First who is her father, then what is he, then what is she, and when she will meet him. That conflict is what I like about this series.Final thoughts and recommendation.The best book so far, and at the end it made me ache to get book 4 and see where it all is heading. I am giving it a 3,75, it has been a step up all the way and I do think the next one will be even better. It was good, and I need the next book.And yes I do recommend this series to UF and PNR lovers, and to the rest too.
Review by Elysianfield
16/06/2015
4.5 stars<br/><br/>Kate gets a call from the shapechanger Saiman that he's got Kate's werewolf sidekick Derek after he tried to break into his home. In exchange to Derek's freedom Kate agrees to go to Midnight Games, highly illegal tournament to death, as Saiman's date. Derek won't tell why he tried to steal Saiman's tickets but makes her promise to deliver a message to a girl in the Games without reading it first. Kate does as she promised but it comes with a price as she comes too late to Derek's rescue and finds him nearly beaten to death, unable to shapeshift nor heal himself.<br/><br/>At first I have to say that this was the book that made me love this serie for sure! I've liked the previous books but this is by far the best so far.<br/><br/>There's lot of action and ass kicking and I loved it. Kate seems to have matured a bit and started to care for others more. I loved how she went to Julie's rescue to the school. Relationship between Kate and Curran takes to another level and the bath scene *drools* I like that the relationship is building in stages and she's not just jumping into his bed at first chance. <br/><br/>I laughed aloud many times and the book is great mix of humour and action.<br/><br/>I found myself to become more curious of Jim too. It's not easy when there's too many hot men there! And poor, poor Derek! <br/><br/>I admit that everyone was right, these books just gets better.
Review by Lauren2013
16/06/2015
Magic Strikes
5 Stars

The episodic nature of this series is particularly entertaining as it provides the unique opportunity of creating a detailed world combining elements from diverse mythologies. The focus in Magic Strikes is on Hindu mythology with a little Greek and Norse thrown in for good measure. Somehow it all manages to come together so seamlessly, thereby ensuring originality and avoiding the tiresome repetition that sometimes plagues the Urban Fantasy genre.

Kate's humanity becomes more evident with each installment as more information is revealed about her past and the origins of her power. In this book, she opens herself up to the highs and lows of friendship when her former sidekick, Derek, is attacked and Kate must join forces with the Pack to fight against powerful enemies in the Midnight Games, a Gladiator-style tournament whose ultimate prize is a legendary Topaz with the ability to subjugate the shapeshifters. The action scenes are well-written and exciting but readers should note that the tone is dark and gritty, and their are numerous gory descriptions as well as references to incest and cannibalism.

The supporting cast is fantastic from Andrea the reluctant were-hyena to Raphael the amorous Bouda Scion, not to mention Dali the vegetarian were-tiger and Jim the Pack security chief who must finally decide if Kate can truly be trusted. However, the best aspect of the book is the developing relationship between Curran and Kate. Their chemistry simply sizzles on the pages and their banter is hilarious.

In sum, the Kate Daniels series has taken the top spot on my list of MUST reads and I cannot wait to see what happens next.

Review by Aly_Locatelli
27/08/2015
Oh this series just keeps getting better and better.
Also in the Kate Daniels Novel series