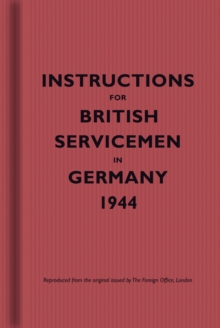 Instructions for British Servicemen in Germany, 1944
Hardback
Description
Nine-and-a-half months after D-Day, 30,000 British troops crossed the Rhine as part of the Allied assault on Germany.
Two years earlier, work had already started on a guide to assist them in negotiating everyday life in what then was still enemy territory. This extraordinary document was intended to educate soldiers on a range of topics, including German history, the national character, politics, culture, food and drink, currency, and to explain the current situation, including the effect of war on Germany and the German attitudes to the British.
It was also intended to condition them to resist the effect of German propaganda by means of a healthy dose of British propaganda. The result is a remarkable booklet, often unintentionally humorous and sometimes crudely stereotypical, it reads by turns like a travel guide (advising on the excellence of German sausages and beer - `one of the pleasantest in Europe') and a crash course in psychological warfare.
It is very much a document of the period, revealing as much about British wartime attitudes towards Germany as it does about British hopes and fears. `If you have to give orders to German civilians, give them in a firm, military manner.
The German civilian is used to it and expects it.'`The Germans are not good at controlling their feelings.
They have a streak of hysteria. You will find that Germans may often fly into a passion if some little thing goes wrong.'`Don't be too ready to listen to stories told by attractive women.
They may be acting under orders.'
Information
Format: Hardback
Pages: 80 pages
Publisher: The Bodleian Library
Publication Date: 01/09/2007
Category: European history
ISBN: 9781851243518
Free Home Delivery
on all orders
Pick up orders
from local bookshops
Reviews
Showing 1 - 2 of 2 reviews.
Review by devenish
16/06/2015
This is one of a series of booklets which is being re-printed by the Bodleian Library.It should be of the upmost interest to anyone at all concerned with the Second World War and it's aftermath.The title I suppose says it all,but after a concise Preface which sets the scene,there are 13 chapters,with such headings as - The German Land,What the Nazis have Done to Germany,What the war has Done to Germany,What the Germans are Like,What the Germans Think of Us,ect .The booklet ends with a list of Do's and Dont's,such as -Keep your eyes and ears open,Avoid loose talk and conduct,Go easy on Schnaps.Don't be sentimental,Don't fall for political hard-luck stories,Don't go looking for trouble.The booklet is (as the Preface says) in turn unintentionally humorous and crudely stereotypical,and gives an excellent picture of British official thinking of the time.
Review by gbill
16/06/2015
Similar to the others in this series, in this case highlighting German history, culture, and how to behave, but this time as an occupying army – and as such being far more cautionary, as the British soldiers would be amongst the enemy in Germany, as opposed to with allies in France. There were naturally two sides for how to treat the German people after Hitler was defeated, one, with mercy, tolerance, and humanity, and the second, with toughness, and holding them accountable for having empowered the Nazis. I suppose it's a bit like the duality found between "an eye for an eye" in the Old Testament and "turn the other cheek" in the New, and the opposite sides of the coin that Malcolm X and Martin Luther King, Jr. were on. The preface points out several Members of Parliament favored leniency as a way of being better than the Nazis ("Humanity and justice cannot be based upon hatred and revenge"), as did Winston Churchill, who ends his <I>History of the Second World War</I> with "In war, resolution; in defeat, defiance; in victory, magnanimity; in peace, good will." However, the authors of this book took a harder line, possibly because it was appropriate to keep the troops from letting their guard down in showing mercy, or fraternizing in a way that may end up getting allies killed, but as the quotes below show, also because the bitterness of what England had been through during the war still stoked jingoistic feelings. It's a little shocking in places as a result, but more interesting to read because of it. The brief German history section, while perhaps basic, is interesting, highlighting Bismarck, and explaining the rise of Hitler and aspects of the Nazi party (e.g. Gestapo being the first couple of letters from Geheime Staats-Polizei, Secret State Police, etc). The first German phrase in the section at the end is Hande hoch! - Hands up!, and a few more of those types of things precede the usual Guten Morgen and other niceties. Quotes:"From the time Hitler came to power no serious resistance movement showed itself in Germany until the attempted putsch of the German generals on the 20th July, 1944. But the cause of that revolt was not the barbarity of Hitler's methods, but merely their lack of success.""Don't be too ready to listen to stories told by attractive women. They may be acting under orders."Ouch:"This mixture of sentimentality and callousness does not show a well-balanced mind. The Germans are not good at controlling their feelings, They have a streak of hysteria. You will find that Germans may often fly into a passion if some little thing goes wrong.""When you deal with Germans you must be on your guard. <B>We were taken in by them after the last war</B>: many of us swallowed their story about the 'cruel' Treaty of Versailles, although it was really far more lenient than the terms they themselves had imposed on Russia only a year before; many of us believed their talk about disarmament, and the sincerity of their desire for peace. And so we let ourselves in for this war, which has been a good deal bigger than the last. <B>There are signs that the German leaders are already making plans for a Third World War. That must be prevented at all costs.</B>
Also in the Instructions for Servicemen series