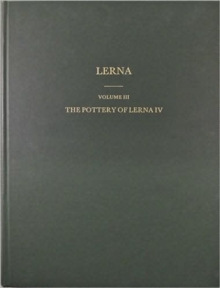 The Pottery of Lerna IV
Hardback
Part of the Lerna series
Description
The author presents the Early Helladic III pottery from Lerna in all its aspects, cataloguing, describing, and classifying over 1,400 vessels.
The classification systems are based on detailed analyses of vessel shapes and ornamentation, supported by shape and pattern charts and numerous tables and illustrations.
The concluding chapter compares the Lernaean pottery sequences to contemporary developments in central and southern Greece and examines the lineage of Early Helladic III pottery, which differs so profoundly from the pottery of the preceding period.
Physico-chemical analyses of ceramic material are presented in an appendix.
Information
Format: Hardback
Pages: 816 pages
Publisher: American School of Classical Studies at Athens
Publication Date: 21/11/1995
Category: Prehistoric archaeology
ISBN: 9780876613030