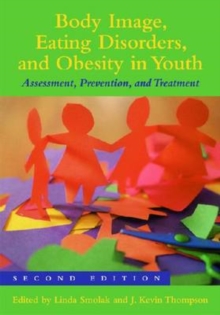 Body Image, Eating Disorders, and Obesity in Youth : Assessment, Prevention, and Treatment
Hardback
Description
The physical and mental health consequences of body image problems, eating disorders, and obesity in children and adolescents can be serious and can extend into adulthood.
But as the empirical data presented in this second edition of a landmark volume show, these disorders are preventable and treatable.
Research in these three areas has exploded since the publication of the first edition of ""Body Image, Eating Disorders, and Obesity in Youth"" and in these new pages leading researchers and practitioners detail recent progress in treatment and discuss areas of persisting challenge.Risk factors for these conditions appear early in development, and many of these factors are social and familial.
Cultural variables play a powerful role, too, and the authors in this book demonstrate how body image and eating problems present and vary across ethnic groups and in boys and girls.
No other volume considers all three of these challenging areas together, and no other volume provides the same range of information, from very early experience through treatment.
All chapters are empirically based and contain suggestions for future research.
This book assimilates up-to-date information into a form that is readily accessible by clinicians, researchers, and students.
Information
Format: Hardback
Pages: 389 pages, Illustrations
Publisher: American Psychological Association
Publication Date: 15/01/2009
Category: Eating disorders & therapy
ISBN: 9781433804052