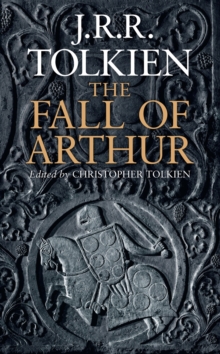 The Fall of Arthur
Hardback
Description
The world first publication of a previously unknown work by J.R.R.
Tolkien, which tells the extraordinary story of the final days of England's legendary hero, King Arthur. The Fall of Arthur, the only venture by J.R.R.
Tolkien into the legends of Arthur King of Britain, may well be regarded as his finest and most skilful achievement in the use of the Old English alliterative metre, in which he brought to his transforming perceptions of the old narratives a pervasive sense of the grave and fateful nature of all that is told: of Arthur's expedition overseas into distant heathen lands, of Guinevere's flight from Camelot, of the great sea-battle on Arthur's return to Britain, in the portrait of the traitor Mordred, in the tormented doubts of Lancelot in his French castle.
Unhappily, The Fall of Arthur was one of several long narrative poems that he abandoned in that period.
In this case he evidently began it in the earlier nineteen-thirties, and it was sufficiently advanced for him to send it to a very perceptive friend who read it with great enthusiasm at the end of 1934 and urgently pressed him `You simply must finish it!' But in vain: he abandoned it, at some date unknown, though there is some evidence that it may have been in 1937, the year of the publication of The Hobbit and the first stirrings of The Lord of the Rings.
Years later, in a letter of 1955, he said that `he hoped to finish a long poem on The Fall of Arthur'; but that day never came.
Associated with the text of the poem, however, are many manuscript pages: a great quantity of drafting and experimentation in verse, in which the strange evolution of the poem's structure is revealed, together with narrative synopses and very significant if tantalising notes.
In these latter can be discerned clear if mysterious associations of the Arthurian conclusion with The Silmarillion, and the bitter ending of the love of Lancelot and Guinevere, which was never written.
Information
Format: Hardback
Pages: 240 pages
Publisher: HarperCollins Publishers
Publication Date: 23/05/2013
Category: Myth & legend told as fiction
ISBN: 9780007489947
Other Formats
Paperback from £6.89
Hardback from £42.95
EPUB from £7.49
Free Home Delivery
on all orders
Pick up orders
from local bookshops
Reviews
Showing 1 - 1 of 1 reviews.
Review by shanaqui
16/06/2015
Who wrote this blurb? Seriously?"The Fall of Arthur, the only venture by J.R.R. Tolkien into the legends of Arthur King of Britain" -- What's his translation of Sir Gawain and the Green Knight? Chopped liver?"...his finest and most skillful achievement in the use of the Old English alliterative metre..." -- Old English metre? Not from what I've seen. Where're the half-lines? Not sure the stresses work either. I'm sure it is a wonderful, skillful work, but more likely in Middle English alliterative metre -- like Sir Gawain and the Green Knight -- which is rather more relaxed.I've been looking forward to this since I found out this poem existed, and once swore I could write my PhD on it. Guess we'll find out soon.--Okay, I admit I seem to have been wrong -- it is Old English metre, the sample I looked at didn't reproduce the formatting. I'm still not sure the alliteration is right, though: I'll need to look it up to be sure, but I think there's too much alliteration. I could, however, be remembering the rules for Skaldic verse, which are not dissimilar, but more strict.I have my copy in hand and a dental appointment later, so I shall stick my nose into these pages studiously until I am dragged to the dentist's chair...-- Finished the poem itself, now to the additional matter. But why has he written a poem about the fall of the British (Celtic) Arthur in battle against the Saxons... in Saxon metre? Conquerors have certainly claimed Arthur before now, but... I wish he'd published this in his lifetime, with his own notes, with his attentiveness to every detail, his concern with the provenance of texts and his invented histories for them. Perhaps he would have recognised the irony in his choice of metre, even explained it.Onward, anyway, to Christopher Tolkien's bit....Which I found less than enlightening, really, since I wasn't interested in a play-by-play of the evolution of the poem and I don't need a primer on the Arthurian legends.Anyway, in summary: fascinating to me as an academic, but I'm not sure how it'll strike non-academics. I wish I could write a PhD on this, but there doesn't seem to be enough material.