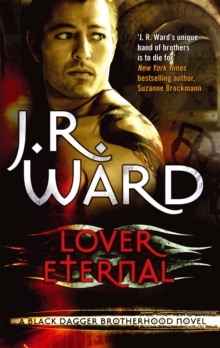 Lover Eternal : Number 2 in series
Paperback
Description
In the shadows of the night in Caldwell, New York, there's a deadly war raging between vampires and their slayers. And there exists a secret band of brothers like no other - six vampire warriors, defenders of their race.
Possessed by a deadly beast, Rhage is the most dangerous of the Black Dagger Brotherhood...Within the brotherhood, Rhage is the vampire with the strongest appetites.
He's the best fighter, the quickest to act on his impulses, and the most voracious lover - for inside him burns a ferocious curse cast by the Scribe Virgin.
Possessed by this dark side, Rhage fears the times when his inner dragon is unleashed, making him a danger to everyone around him.
Mary Luce, a survivor of many hardships, is unwittingly thrown into the vampire world and reliant on Rhage's protection.
With a life-threatening curse of her own, Mary is not looking for love.
Her faith in miracles was lost years ago. But when Rhage's intense animal attraction turns into something more emotional, he knows that he must make Mary his alone. And while their enemies close in, Mary fights desperately to gain life eternal with the one she loves.
Information
Format: Paperback
Pages: 480 pages
Publisher: Little, Brown Book Group
Publication Date: 01/02/2011
Category: Romance
ISBN: 9780749955274
Free Home Delivery
on all orders
Pick up orders
from local bookshops
Reviews
Showing 1 - 2 of 2 reviews.
Review by AddictedToMorphemes
16/06/2015
Second in Black Dagger Brotherhood series. Features vampire warrior and member of the Brotherhood, Rhage, also known as "Hollywood" for his unnaturally good looks and reputation with women. He was cursed for 200 years by the Scribe Virgin so when he loses control (usually brought on by pain or extreme anger), he turns into a beast (dragon) that kills everything in sight. This is helpful when battling their enemies but dangerous because he is out of control when it happens and he is constantly tormented that he may inadvertently hurt his Brothers or innocents.He meets the very kind (but self-described Plain Jane) Mary Luce, whose voice has a calming effect on him, but he is concerned that he will accidentally harm her and she doubts that his attraction to her is real because she's seen the type of women who fall over themselves to get his attention, so there is a lot of back-and-forth between the two of them involving both of their insecurities. Introduced is John Matthew, a 20-something weakling orphan who is close to transitioning but knows nothing about who he is except for dreams he's had. We also meet Bella, a neighbor and friend of Mary's, who is also a vampire and recognized John Matthew for what he is and arranges his first meeting with the Brotherhood. Bella has a strong reaction to Zsadist--more to come between the two of them. There's a plot line involving one of the slayers, Mr. O, who is arrogant and power hungry but who seems to be losing some of his zeal for the job and it appears he is slipping deeper into madness.So far, this series is pretty good. It's kind of nice because it has some edge to it but it's not as dark as something like [[Laurell K. Hamilton]]'s books. It's keeping my interest but I think I've already figured out some of the "surprises" to come. I do really like these characters and am drawn into their makeshift family and that will keep me reading.
Review by Lauren2013
16/06/2015
Lover Eternal
3 Stars
Synopsis:
The fiercest fighter and most voracious lover within the Brotherhood, Rhage fears the harm he may cause when his curse takes over and the beast within him is released. That is until the day he meets Mary Luce, a human woman who has survived numerous hardships and can sooth the beast within Rhage. Soon the two will face their most dangerous foe and find out if their love truly can conquer all.

Review
Similar to book #1, the plot is on the mediocre side and only gets going toward the end. There are numerous "suspend your disbelief" moments and the Lessers are some of the stupidest villains in PNR. They are definitely more a danger to each other than to the brotherhood.

Rhage and Mary are likeable as a couple but not as individuals. Rhage goes from Don Juan/Casanova to lovesick puppy in under 50 seconds with little to no background or character development. The best thing about him is the beast even though the reason for his punishment is ridiculous at best. Mary's illness is saddening but also depressing and her lack of self-worth at the beginning makes her seem pathetic and annoying - first impressions are really very important and she does not make a good one even though she improves later.

One of the worst things about this series is the submissive and servile manner in which women are portrayed. The Chosen, for example, seem to exist solely for the purpose of "serving" the brotherhood and Layla's subservient behavior is very off putting (it reminds me of Marissa's attitude toward Wrath in book #1).

Nevertheless, there are a few appealing aspects such as the scenes with Rhage's beast, which are some of the best written in the book. In fact, the prose in general is an improvement (less street slang) but the dialogue is still childish and the writing style needs work.

Additional highlights include the compelling relationship between Bella and Zsadist and the subplot involving John Matthew's introduction to the vampire world. Both of these have me wanting to continue if only to find out what happens next - kind of like a bad soap opera.
Also in the Black Dagger Brotherhood Series series | View all