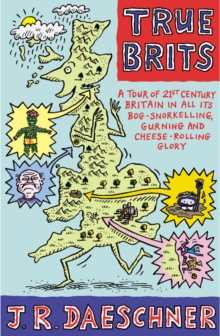 Description
When J. R. Daeschner first heard about 'shin kicking' he was intrigued.
As an American who had lived in Britain for some time, he thought he knew a thing or two about the country.
But he'd never come across this centuries-old 'sport', which had to be one of the most painful and infuriating ever invented.
J. R. had to find out more, and soon discovered that Britain has dozens, if not hundreds, of similar acts of lunacy enshrined as traditions; strange-named events such as cheese rolling, gurning, bog snorkelling...True Brits is a funny and fascinating travel guide to Britain's oddest places. people and traditions. Readers can follow J. R. as he meets some of the great British eccentrics who involve themselves in a host of bizarre pastimes which include hurling themselves down a grassy cliff in pursuit of a cheese, coating themselves in prickly green burrs, hanging toast on trees and prancing around with reindeer antlers on their heads.
In an attempt to understand why seemingly ordinary people do such extraordinarily strange things, J.
R. talks to countless characters, watches them in action, and even participates in many of the events himself, encountering plenty of occupational hazards along the way.
Information
Format: Paperback
Pages: 352 pages
Publisher: Cornerstone
Publication Date: 01/04/2004
Category: Humour
ISBN: 9780099453468
Free Home Delivery
on all orders
Pick up orders
from local bookshops
Also by J.R. Daeschner