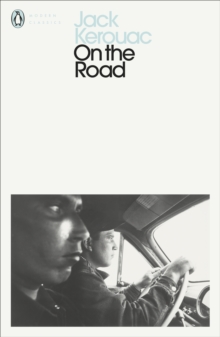 Description
Five decades after it was first published, Jack Kerouac's seminal Beat novel On the Road finally finds its way to the big screen, in a production from award-winning director Walter Salles (Motorcycle Diaries) starring Sam Riley (Control, Brighton Rock), Garret Hedlund (Friday Night Lights), Kristen Stewart (Twilight), Kirsten Dunst, Amy Adams and Viggo Mortensen.Sal Paradise (Sam Riley), a young innocent, joins his hero Dean Moriarty (Garrett Hedlund), a traveller and mystic, the living epitome of Beat, on a breathless, exuberant ride back and forth across the United States.
Their hedonistic search for release or fulfilment through drink, sex, drugs and jazz becomes an exploration of personal freedom, a test of the limits of the American dream.
A brilliant blend of fiction and autobiography, Jack Kerouac's exhilarating novel swings to the rhythms of 1950s underground America, racing towards the sunset with unforgettable exuberance, poignancy and autobiographical passion.
One of the most influential and important novels of the 20th century, On the Road is the book that launched the Beat Generation and remains the bible of that literary movement.'The most beautifully executed, the clearest and the most important utterance yet made by the generation Kerouac himself named years ago as "beat"' The New York Times'Pop writing at its best.
It changed the way I saw the world, making me yearn for fresh experience'Hanif Kureishi, Independent on Sunday'On the Road sold a trillion Levis and a million espresso machines, and also sent countless kids on the road'William Burroughs
Information
Format: Paperback
Pages: 320 pages
Publisher: Penguin Books Ltd
Publication Date: 24/02/2000
ISBN: 9780141182674
Other Formats
Paperback from £4.50
from £7.65
EPUB from £4.99
Free Home Delivery
on all orders
Pick up orders
from local bookshops
Reviews
Showing 1 - 5 of 11 reviews.
Previous | Next
Review by trench_wench
16/06/2015
I don't think I could describe how much I love this novel. I first read it when I was about 16 have re-read it every year since. I love Kerouac's gutsy, spontaneous prose, it rushes along at breakneck speed, hardly pausing for breath. The first time I read this book, I read it at a ridiculous pace, finishing it within a couple of days, but each time I've read it since, I've made a conscious effort to take it more slowly, and this has really made me appreciate Kerouc's lyrical style a lot more. Every time I've read the novel, in different circumstances, I've got something new from the book. For example, when I was 16, I was desperate to leave home and start my own life 'on the road', so to speak, and at that age, the exuberant spontaneous travels of the novel's heroes Sal Paradise and Dean Moriarty appealed to me, in a way that they wouldn't now. What struck me on this reading was the underlying feelings of anti-climax - Sal and Dean are always off to the next city, in search of 'kicks', but life in the next city never turns out to be exactly as they'd dreamt it to be, and so they move on. Even when they finally reach what they believe to be the final destination - Mexico City - their stay is short-lived. I recomment this novel to anyone!
Review by soylentgreen23
16/06/2015
About the only Kerouac I can get on with, this isn't too bad, and offers a fascinating insight into the lives of the beat poets. Still, I think that it doesn't deserve the masses of acclaim that have been heaped onto it; if it wasn't so famous, it wouldn't be worth recommending to other people.
Review by Linus_Linus
16/06/2015
Never has any book contained the explosive energy of life and its positive affirmation than you can find in this one. Like for many others, it reminds me of the zest of my younger days; if mere reading it makes you so high I wonder how it would feel to be a Jack Kerouac, furiously fast-typing the keys for hours and days together oblivious to the sound they make while your girlfriend changes your T shirts dripping in sweat. It must be, as Kerouac would approve, mad.
Review by dylanwolf
16/06/2015
I didn't read this until I was fifty and it was the noughties. I should have read it when I was twenty and it was the seventies because now it's a bit of a snooze. Druggy road trips - shrug. It's cool to chill out but no great science or art has been truly inspired by marijuana or stronger. So, is this a good book? Not really, but it is probably a reasonably significant one. It stands as the representative of an era and a generation but it's not particularly insightful. That Kerouac managed to write anything coherent at all is the main achievement. Occasionally good on jazz.
Review by edwinbcn
23/09/2015
Jack Kerouac's novel On the road is unmistakenly a classic. The novel belongs to the early work of Kerouac. Prior to the publication of On the road he had written various short stories and shorter novels, but most of these were published posthumously, most even as late as during the first decade of the Twenty-First Century. When On the road was published in 1957, Kerouac had only one published novel to his name: The Town and the City (1950).The early and later prose styles of Jack Kerouac are very different. The novel On the road falls in neither category. It is different altogether, although is shares characteristics with Kerouac's early prose style.Kerouac's earlest prose was written during the 1930s and 1940s. His earliest collection of short stories, Atop an Underwood: Early Stories and Other Writings was written between 1936 - 1943, and published in 1999. The Sea Is My Brother, long known as "the lost novel" was written in 1942, and published in 2011. Written in 1944, The Haunted Life and Other Writings consists of a fragment of a novel and other prose, was published 2014. A novella from the same period, 1944-5, Orpheus Emerged was published in 2002, while the novel, written jointly with William Burroughs, And the Hippos Were Boiled in Their Tanks was written in 1945, and belatedly published in 2008. These early prose works are written in a fairly conventional prose style, although themes such as the search for freedom and detachment from convention can be found, besides the beginnings of an interest in experimentation with drugs.In his later prose style, Kerouac's search for freedom and detachment from convention is pushed into his use of language. His late prose, written in a type of stream of consciousness is a wildly extatic outpour of verbiage, poetic at times, and often incoherent. Some of these prose texts were likely written while drunk or under the influence of drugs. The novel Big Sur aims to describe the main character's mental and physical deterioration as he is battling with advanced alcoholism. It is not really enjoyable to read.On the road was written in 1951, in only three weeks time. The novel compounds seven years of experience "on the road" and is largely autobiographical. Kerouac developed a special technique for writing the novel, reducing distractions so that he could concentrate without interruptions. This led to the production of the first typescript of the novel, referred to as "the scroll". This so-called scroll was published in 2007 as On the Road: The Original Scroll.It took six years to publish On the road. As explained in the excellent introduction to the Penguin Modern Classics edition, by Ann Charters preparation for publication involved extensive revision of the manuscript. Kerouac's editors asked him again and again to make extensive changes to the novel, both in structure and detail. Names of characters, originally real names of the core group of members of what was soon to become known as the Beat Generation were changed to fictional names. A critical reading and comparison with "the scroll" should reveal how extensively the regular edition of On the road was altered.The quality of the prose of On the road clearly exceeds any of the prose written before. On the road is unmistakenly a classic. Its prose has a distinct, lyrical quality. It is a great work of fiction. However, in terms of the message it might convey, the novel is dense. Where critics see an epic, mythical journey, often compared with Bunyan's The Pilgrim's Progress, this is not clear to the reader. While the original manuscripts is said to describe several journeys, these have been reworked in the final edition to present a single journey. On the road is somewhat boring because it focuses on one character, while the novel lacks a clear narrative.On the road is a celebration of America. The experience of hitch-hiking and freedom of travelling all over the continent, and in its descriptions of their adventures on the road, and the places they pass through, the novel gives an attractive image of the United States. It is easy to see how the novel could inspire young people to go out and seek adventure, hitch-hiking "on the road".Perhaps On the road is the best place to start when reading Kerouac for the first time.
Also in the Penguin Modern Classics series | View all