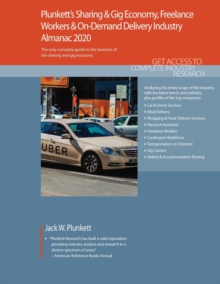 Plunkett's Sharing & Gig Economy, Freelance Workers & On-Demand Delivery Industry Almanac 2020
Paperback / softback
Description
The penetration of digital technology into all aspects of life is no better represented then in the adjustment of work arrangements through the sharing economy.
A sometimes-misunderstood term, the sharing economy is a system of peer-to-peer exchanges or rentals facilitated through a digital intermediary.
Often associated with the ride-sharing company Uber, many goods and services can be provided through similar platforms, such as meal, shopping and food delivery, personal assistants, contingent workforce, and Internet-based scheduling.
Closely intertwined with the sharing economy is an expansion of gig and freelance work.
While these short-term or one-time work arrangements are not new, the sharing economy platform allows for a greater number of people to find gig or freelance work.
These platforms allow increased access to services and workers in ways not seen before.
This carefully-researched book covers exciting trends in the business of the sharing and gig economy, freelance workers, and on-demand delivery.
This reference tool includes thorough market analysis as well as our highly respected trends analysis. It contains thousands of contacts for business and industry leaders, industry associations, Internet sites and other resources. This book also includes statistical tables, an industry glossary and thorough indexes. The corporate profiles section of the book includes our proprietary, in-depth profiles of hundreds of leading companies, worldwide, in all facets of the sharing economy, freelance workers, and on-demand delivery industry, including private and public firms. Here you'll find complete profiles of the hot companies that are making news today, the largest, most successful corporations in the business. You'll find a complete overview, industry analysis and market research report in one superb, value-priced package.
Information
Format: Paperback / softback
Pages: 245 pages
Publisher: Plunkett Research, Ltd
Publication Date: 28/02/2020
Category: Industry & industrial studies
ISBN: 9781628315202
Also in the Plunkett's Industry Almanacs series | View all