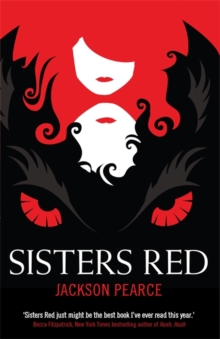 Description
The story of Scarlett and Rosie March, two highly-skilled sisters who have been hunting Fenris (werewolves) - who prey on teen girls - since Scarlett lost her eye years ago while defending Rosie in an attack.
Scarlett lives to destroy the Fenris, and she and Rosie lure them in with red cloaks (a colour the wolves can't resist), though Rosie hunts more out of debt to her sister than drive.
But things seem to be changing. The wolves are getting stronger and harder to fight, and there has been a rash of news reports about countless teenage girls being brutally murdered in the city.
Scarlett and Rosie soon discover the truth: wolves are banding together in search of a Potential Fenris - a man tainted by the pack but not yet fully changed.
Desperate to find the Potential to use him as bait for a massive werewolf extermination, the sisters move to the city with Silas, a young woodsman and long time family friend who is deadly with an axe.
Meanwhile, Rosie finds herself drawn to Silas and the bond they share not only drives the sisters apart, but could destroy all they've worked for.
Information
Format: Paperback
Pages: 368 pages
Publisher: Hachette Children's Group
Publication Date: 03/03/2011
Category: Thrillers (Children's/YA)
ISBN: 9781444900606
Free Home Delivery
on all orders
Pick up orders
from local bookshops
Reviews
Showing 1 - 5 of 6 reviews.
Previous | Next
Review by kalky
16/06/2015
In this modern day reshaping of the Little Red Riding Hood tale, Jackson Pearce brings us sisters Scarlett and Rosie who are survivors of a werewolf – or "Fenris" as they're called in this story – attack that killed their grandmother. The girls are raised by the woodsman who saved them, and along with Silas, the woodsman's youngest son, they train themselves to hunt the Fenris. Silas does it because it is his birthright, Scarlett does it because it is her life, and Rosie does it because she feels she owes her sister her life. Their differing levels of commitment combine to make for a more in-depth story than you expect from a YA paranormal adventure tale, and although there is some degree of predictability to the ending, that doesn't mean you won't enjoy reading the book all the way to the end.
Review by lawral
16/06/2015
Here are just a few of the things I love about this book: Scarlett is so tough. She's deadly with a hatchet and harshly truthful and fiercely loyal and secretly proud of while being secretly self-hating because of her many battle scars. She feels overwhelmingly obligated to do the work that she does, and she's good at it. She's generally kick-ass. Rose is so conflicted. She wants Scarlett to trust her to hunt alone, but she also wants Scarlett to need and protect her. She wants to remain half of a pair, but she also wants to break away into a different life. She's got wicked aim with throwing knives, and she holds Scarlett together when no one else can. She's generally kick-ass. Silas is quite literally the boy next door. As such, he's managed to win the crushes of both Scarlett and Rose over the years. But he is first and foremost Scarlett's partner; they are a team and they act like one. He also manages to be first and foremost Rose's support. He pushes Scarlett to trust Rose on the hunt, and he pushes Rose to break away from hunting and live her own life. And he does all of this without being two-faced or playing one sister against the other. He totally gets that no matter how much Rose might swoon over him or how much Scarlett depends on him, he will never be able to compete with the relationship Scarlett and Rose have with each other. So he doesn't try. The twist that Pearce puts on werewolf mythology is great. They're still totally evil people-eaters (unlike some other werewolves you may be familiar with), but they're not the werewolves of B-rated horror films (or Harry Potter) either. How she weaves the girl in the red riding hood into this mythology made me giddy. She's created a werewolf that is, a lot of the time, victim to his own senses and sensations. In showing how Scarlett and Rose manipulate these monsters, she completely immerses the readers in a rich fantasy: the one that Scarlett and Rose (with help from Silas) nightly create. None of this compares to the twist Pearce has put on the ending of her own story. I thought I had it figured out about halfway through the book, then I lost it, then I figured it out again, but by then things were so complicated that I didn't know how Scarlett, Rose, and Silas were going to pull it off.Seriously guys, I loved this book. The opening hook worked like a charm, and by the end, I was reading with my heart in my throat. I was so invested in these characters. Highly recommended.
Review by SharonLong
16/06/2015
i enjoyed this book - lots of gore, action and descriptions of violence, but it's a modern retelling of Red Riding Hood where the girls are the fighters that take down the evil fenris (werewolves). Good strong female characters too.
Review by pnh002
16/06/2015
Let's start with the most impressive thing about this book; the cover. Its AMAZING. And call me crazy, but I just recently realized that there were hidden images on it smh lol But at the bottom you can see the scary looking wolf with the red eyes and above him you can see the two faces of the girls that are across from each other. The black of the wolf makes up some of her hair and the red makes up the other girl's hair. And the colors all look great together, the red is so radiant and the black is brings it out. The white seems to purify it some way. Most importantly, everything on the cover is a huge part in the story and is there for a reason.The next most impressive thing is the idea and writing style of this story. The idea of turning around a fairy tale and turning it into a paranormal romance kind of story really blew me away. This version of Little Red Riding Hood is one that you've never read before. In the prologue the wolf makes its first appearance and the girls, Scarlett and Rosie, both narrowly escape and their grandmother dies. In the next seven years, the girls are hunters and there is a friend of theirs who returns from visiting his siblings. Its Silas, who happens to be the woodsman. They go on fighting these werewolves looking for the Potential (can't elaborate without spoilers, so I'll just leave it at that.) until the relationship of the three of them is tested when Rosie and Silas fall for each other. I also liked the use of fairy tales. For example, the setting was modern day Atlanta but it was also a fairy tale world that only a handful of people knew about. Then there was the mentioning of the other fairy tales, like Scarlett saying Rosie looked like Sleeping Beauty while she slept. And I liked the fact that she stayed so true to the original Little Red Riding Hood. All the characters were there; the wolf was even saying "The better to see you with my dear." I thought that was pretty cool.However, there were a few things that didn't impress me as much. For instance, when the romance came into play it was a kind of insta-love. Also, when the plot twist came in, she knew it instantly. Like there was no thinking about it, guessing, or anything it was like BINGO! I guess what I'm saying, is there were no surprises. I always knew what was coming.I also didn't like the characters. Rosie was too afraid to stand up to her sister and do whatever she wanted to do. Granted her sister saved her life, but she doesn't have to spend the rest of her life doing whatever it is that she wants her to do. Where does that leave you to be happy? Then there was Scarlett... I definitely didn't like her because she was too obsessed with the hunt. Although she may have a reason to (i.e. the scars and eyepatch), the things she was doing was way tooooo much. She didn't give her sister or Silas a chance at having a life. She wanted them to be just as unhappy as she was. I understand why she was the way she was, but I also didn't like the fact that she wasn't listening to their side. Only complaining about why they weren't on hers. Lastly, I didn't like the plot the entire time either. I kind of felt like there wasn't much going on. Don't get me wrong, the scenes where Scarlett, Silas, and Rosie are fighting are soooooo cooooolll, and there was alot of kick ass moments and bloodshed, but other than that I was like "........Oooookkkkkk.... What's next?" It seemed a little boring in the middle. I seemed to only like the story when there were Fenris around. Then when the romance came up, it was like all Rosie could think about. I understand that you like him, but he should NOT be your only concern. Overall, it was a good read. I definitely like the era of fairy tale retellings, and this one didn't disappoint!
Review by HippieLunatic
16/06/2015
I adore most retellings of fairy tales, and this was no exception. The story of "what would happen if there were actually many werewolves in our existence, and there were only a select few who knew about them, and could face that knowledge to fight them?" was a fun on, and while there were certainly aspects of the story that I thought were a bit clichee (seventh son of seventh son and all) these were not huge distractions to the story of the two March girls.The only reason this book was not granted 5 stars was that I did not feel any moments of literary music coming from the pages, as I would hope to get from any fairy tale retelling. Words are powerful things in stories that are so near and dear to our hearts, and I have come to expect poetry in these stories.