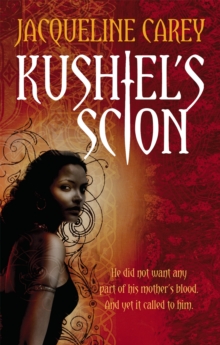 Kushiel's Scion
Paperback
Description
I was afraid of the dark tide that stirred in me. I did not want any part of my mother's blood. And yet it called to me.' Imriel de la Courcel, third in line to the throne, was enslaved and tortured as a boy, leaving him scarred and wary of his future.
Son of a traitor, Imriel fears the dangerous passions of his bloodline - and his potential for destruction. His beloved stepmother, exotic and lovely, has trained him in the arts of covertcy - espionage skills that will either serve his country well, or draw him into a web of corruption and treachery.
Imriel will need all of these resources as he travels, incognito, to escape the demands of court and family ...What he discovers is not freedom, but a city at war, and a political game so deep that he may never escape its net.
Information
Format: Paperback
Pages: 768 pages, 1 map
Publisher: Little, Brown Book Group
Publication Date: 07/08/2008
Category: Fantasy
ISBN: 9781841493619
Free Home Delivery
on all orders
Pick up orders
from local bookshops
Reviews
Showing 1 - 2 of 2 reviews.
Review by lewispike
16/06/2015
This book doesn't quite work as well as those in the previous trilogy. The reason? I don't think Ms. Carey writes Imriel as well as she wrote Phèdre - I think she's struggling to write adolescent male as the central character, and her desire to make him clearly different to Phèdre has taken him too far away from a place she feels comfortable writing.Despite those reservations, there's a solid story, there's a fair bit of intriguing and there are some lovely new little bits of the world shown. There is also a nicely done sense of growing up and making friends and some nicely done battle scenes.It's interesting enough that I will look for the next one to come along.
Review by shanaqui
16/06/2015
Kushiel's Scion didn't blow me away as much as the first trilogy did. That partly has to do with the fact that it's a sequel -- it takes place in a pre-created world that takes more and more from the real world. Tiberium is so obviously Rome, and Rome is so well known an era and place, that it loses a lot of the creative magic that came with, say, Terre D'Ange or Skaldia. A lot of the creativity that blew me away has been done, and also the characters that I fell so much in love with in the first trilogy are not so much in evidence, giving way to a new generation.<br/><br/>Having said that, Kushiel's Scion seems more accessible than the first trilogy, really. Imriel is less of a "Mary Sue" than Phèdre in some ways, since he isn't as perfect at anything and he isn't chosen by a god, and nor is he a Joscelin. In some ways, for both the reader and the world he's written in, Imriel himself is eclipsed by the shadows of his real and his foster parents, and must prove himself. That's a pretty familiar story, even with the addition of his childhood traumas that must be overcome.<br/><br/>It's also more accessible because there is much less BDSM sex. In this first book at least, there is only one scene I can recall, although Imriel does have desires in that direction. There is sex, but thus far it's been more or less tame and mostly to do with healing.<br/><br/>The storylines in this book are interesting. Imriel's growth is an obvious one, and his attempts to heal from what happened to him when he was younger. I also found Eamonn's little character arc interesting, and I like him a lot as a character, although I can't imagine he's going to find his Skaldic bride again quite so easily. Lucius' subplot, with the possession by his ancestor, is another interesting one, and it's fun to see the different kinds of magic woven into this world. His relationship with Imriel is also sweet and a little hurty, and I wish there was more of it. The plot with Claudia is fun because of what you learn about Delaunay and his past, and about the Unseen Guild, but I didn't like her as a character.<br/><br/>Canis is an intriguing character and perhaps I wasn't quite on my toes, but I didn't see the connection to Melisande until I was very late on. There are only the most tantalising hints at what Melisande might be doing, but I'm sure more on that will come later.<br/><br/>Thus far, then, I'm enjoying the second trilogy. It could always do with more Phèdre, Joscelin and Hyacinthe, but everything could do with more characters like them.
Also in the Treason's Heir series | View all