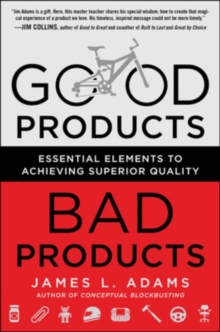 Good Products, Bad Products: Essential Elements to Achieving Superior Quality
Hardback
Description
"This book is the most comprehensive discussion of all the elements that go into producing superior products that I have read.
I have thought a lot about quality over many years, yet the thinking reflected throughout [this] discussion is a real eye-opener for me.
For anyone seriously interested in quality, this is a must read."-Donald E.
Petersen, retired President and Chairman, Ford Motor Company"This is a book only a legend like Jim Adams could write.
Based on a very popular course Jim taught at Stanford for many years, it should be required reading for every engineering student interested in designing great products.
Great products lead to great companies that change the world.
Every aspiring engineer wants to have an impact and this book will absolutely help.
Read it!"-James D. Plummer, Dean, School of Engineering, Stanford University"Drawing on fifty years of engineering experience, ranging from car design to rocket science, Stanford professor Jim Adams takes us on an engaging and eclectic journey through the evolution of what makes good products tick.
With the same irrepressible curiosity Adams displayed in Conceptual Blockbusting, he shares insights into the underlying characteristics that separate products into the good, the bad, and the ugly."-Tom Kelley, General Manager, IDEO, and author of The Art of Innovation and The Ten Faces of Innovation"Adams has a high-level and holistic view of the design of everyday things and the issues confronting those who develop them.
If you design things, you will enjoy this book and benefit from Jim's wisdom and experience."-Bill Moggridge, Director of the Smithsonian's Cooper-Hewitt National Design Museum, and author of Designing Interactions and Designing Media"Jim Adams is a gift.
He understands the true essence of quality, blending 'what works' with 'what's beautiful.' Here this master teacher shares his special wisdom: how to create that magical experience of a product we love, one that evokes 'Wow, this is really cool!' His timeless, inspired message could not be more timely."-Jim Collins, author of Good to Great and coauthor of Built to Last and Great by ChoiceAbout the Book:What is the secret behind every successful product?
Why are people willing to pay more for a BMW than a Chevrolet?
How could Apple iPhones represent only 4% of the world's cell phone market in 2010 but take in 50% of the profits?The answer is QUALITY. In this provocative new book, bestselling author James L.
Adams provides a brilliant, in-depth look at the powerful but elusive qualities that can make or break a product's success.
A must-read for managers, designers, manufacturers, engineers, and marketers, this groundbreaking approach will change the way you think about your product-and show you why it's more important than ever to deliver the highest quality possible. In Good Products, Bad Products, you'll learn how to:Maximize your product's performance-and minimize the costAppeal to your customer's emotions-with elegance and sophisticationMake sure your product is a perfect fit-that's human, cultural, and globalWith competition growing stronger and fiercer every year, product quality has become the number-one factor in a company's success.
Adams points out that there will always be a stable demand for a high-quality product. By addressing every aspect of product quality-from the technical to the practical to the aesthetic-you can develop a product that your company will be proud of and your customers will love. Along the way, you'll hear fascinating case studies of famous brands that became victims of their own success-like Kodak, IBM, Zenith, and GM-and struggled to recover lost ground.
You'll see how some countries like Japan surged ahead by offering better products than anyone on the globe.
You'll learn how some U.S. manufacturers remained successful in spite of the foreign market's lower wages. And you'll also discover the top industry secrets for prioritizing quality throughout the company, delivering products that are the best in their class. Now more than ever, quality matters. Good Products, Bad Products gives you the edge, so you can give your customers the best product possible.
Information
Format: Hardback
Pages: 272 pages, 20 Illustrations, unspecified
Publisher: McGraw-Hill Education - Europe
Publication Date: 10/01/2012
ISBN: 9780071782401