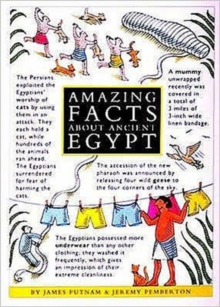 Amazing Facts About Ancient Egypt
Hardback
Description
Amazing Facts about Ancient Egypt reveals: that Howard Carter's pet canary was swallowed by a cobra on the day Tutankhamun's tomb was opened; that the Egyptians were the first people to hatch eggs artificially; that ritual false beards were worn by queens as well as kings.
These are just some of the hundreds of curious, extraordinary, zany, hilarious, but true facts that James Putnam has unearthed and Jeremy Pemberton has illustrated in this book. Did you know that the Egyptians possessed more underwear than any other clothing?
That Pepi II's was the longest reign in recorded history?
That the biggest blocks used to build the Great Pyramid each weigh more than two African bull elephants?
Our image of the supposedly demure and death-obsessed ancient Egyptians may be transformed forever by the revelation that they got drunk on lumpy beer - the national beverage - tattooed their bodies, and used crocodile dung as a contraceptive.
From King Tut to Cleopatra, from health and beauty to magic, myth and mystery, the cornucopia of true but incredible facts in this book is simply amazing.
Information
Format: Hardback
Pages: 64 pages, illustrated in colour throughout
Publisher: Thames & Hudson Ltd
Publication Date: 12/09/1994
Category: African history
ISBN: 9780500016299
Also by James Putnam