Description
Shortly before the Second World War, a column by 'Mrs Miniver' appeared in THE TIMES, the first of many recounting the everyday events of a middle-class Chelsea family: Mrs Miniver's thrill at the sight of October chrysanthemums; her sense of doom when the faithful but rackety car is replaced; the escapades of Vin, Toby and Judy, her unpredictable young children; visits to the Kent cottage and, as war becomes a reality, the strange experience of acquiring gas masks and the cameraderie of those unsettling early days.Mrs Miniver enchanted the public with her sympathy and affectionate humour, capturing ordinary lives and values now darkened by war. First published in book form in 1939 and later an enormously successful film, MRS MINIVER became a bestseller on both sides of the Atlantic -- with Churchill exclaiming that it had done more for the Allied cause than a flotilla of battleships.
Information
Format: Paperback
Pages: 176 pages
Publisher: Little, Brown Book Group
Publication Date: 24/08/1989
Category: Classic fiction (pre c 1945)
ISBN: 9781853810909
Free Home Delivery
on all orders
Pick up orders
from local bookshops
Reviews
Showing 1 - 4 of 4 reviews.
Review by john257hopper
16/06/2015
A witty and well written novel about middle class family life on the eve of war. However, it is very unlike the film. The latter is mostly set after the outbreak of war, whereas in the book (published just after the outbreak of hostilities) it is hovering in the near future, e.g. buying gasmarks, accepting evacuated children in the country home. The oldest son, Vin, is here only 15 years old, not getting married and becoming a fighter pilot. No tragic death of a daughter-in-law or prize-winning flower contest. Film and book are both very good, but in different ways.
Review by lycomayflower
16/06/2015
A series of vignettes from Mrs Miniver's life with her husband and three children in (just barely) pre-WWII middle-class England, the book is full of keen observations about all sorts of things (marriage, children, motherhood, visiting, war, reading, springtime). It's nowhere near as twee as you fear it might be--I was consistently delighted while reading and was forever recognizing myself, or recognizing someone I hope I will be in ten or fifteen years. And when I did neither of those things, I wished desperately that Mrs Miniver would take it into her head to move in next door. Recommended.
Review by LyzzyBee
16/06/2015
Acquired via BookCrossing 09 Dec 2010 - bookringA wonderful book - I'm amazed I haven't read this before, actually. Columns written for The Times in the late 1930s about family life, with the addition of letters written in the beginning part of WW2. The pieces are so absolutely beautifully written and observed - I particularly liked the one about the different ways the children opened their Christmas stockings, but every essay has a lovely turn of phrase, a gentle humour or a sharp observation. An excellent read, and made me want to go back to the Diaries of the Provincial Lady, which are funnier, but have something of the same tone.I was at the end of this bookring and am allowed to do what I want with it, so do shout if you'd like a read of it and I'll send it along!
Review by Kasthu
16/06/2015
Mrs. Miniver is a novel and collection of essays that focuses on the day-to-day life of a 1930s housewife. The "chapters" are more vignettes that focus on the trivial events of Mrs. Miniver's life: visits to the dentist's, the changing of the seasons, holidays with her husband, an architect, and their three children, and Christmas shopping.All of this sounds, boring, but it's not. Jan Struther describes Mrs. Miniver's life poetically, with emphasis on the little details. The essays are a reflective look into the thoughts and feelings of one inter-war housewife (although the story is told in the third person). There's no plot or character development, but Mrs. Miniver describes her lifelife exquisitely. There's also a subtle undercurrent of humor to this book, although it's not quite as laugh-out-loud as DE Stevenson's Mrs. Tim books or Henrietta's War, by Joyce Dennys. On the other hand, though, Mrs. Miniver makes some really insightful comments on a wide variety of topics—everything from the impending war to her love of engagement books. There's not much in the way of plot to this book, but nonetheless, it's quite wonderful.
Also by Jan Struther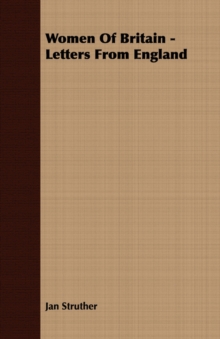 Also in the Virago Modern Classics series | View all