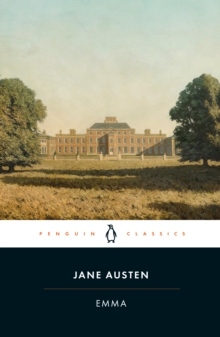 Description
The definitive text of Jane Austen's penetrating and sparkling satire, "Emma", this "Penguin Classics Edition" includes an introduction by Fiona Stafford.
Emma Woodhouse, handsome, clever, rich - and fiercely independent - is perfectly content with her life and sees no need for either love or marriage.
Nothing, however, delights her more than interfering in the romantic lives of others.
But when she ignores the advice of her good friend Mr Knightley and attempts to arrange a suitable match for her pretty, naive Harriet Smith, her well-laid plans soon unravel and have consequences that she never expected.
With its imperfect but charming heroine, and its witty and subtle exploration of relationships, "Emma" is often seen as Jane Austen's most flawless work.
Edited with an introduction by Fiona Stafford, this edition includes a chronology, additional suggestions for further reading, and the original "Penguin Classics" introduction by Tony Tanner. Jane Austen (1775-1817) was extremely modest about her own genius but has become one of English literature's most famous women writers. Austen began writing at a young age, embarking on what is possibly her best-known work, Pride and Prejudice, at the age of 22.
She was also the author of "Sense and Sensibility", "Persuasion", "Northanger Abbey" and "Mansfield Park".
If you enjoyed "Emma", you may like Charlotte Bronte's "Villette", also available in "Penguin Classics". "These modern editions are to be strongly recommended for their scrupulous texts, informative notes and helpful introductions." (Brian Southam, the Jane Austen Society). "The author of "Emma"...has produced sketches of such spirit and originality that .. in this class she stands almost alone." (Sir Walter Scott).
Information
Format: Paperback
Pages: 512 pages
Publisher: Penguin Books Ltd
Publication Date: 30/01/2003
Category: Classic fiction (pre c 1945)
ISBN: 9780141439587
Other Formats
Paperback from £2.50
Hardback from £9.15
CD-Audio from £11.39
EPUB from £0.99
Free Home Delivery
on all orders
Pick up orders
from local bookshops
Reviews
Showing 1 - 5 of 61 reviews.
Previous | Next
Review by rachelellen
16/06/2015
Emma, Emma, how do I hate thee? Let me count the ways. (Until you get over yourself, that is.) And the great thing is, the story's written so brilliantly that even while you're wishing you could wring the title character's neck, you're having the time of your life reading about her.
Review by mair
16/06/2015
I think it says alot that I still thoroughly enjoyed this novel despite finding Emma one of the most irritating characters I've ever read.
Review by amyzilla
16/06/2015
I really enjoyed reading Emma. I liked it better than Pride and Prejudice, which I adore. However, it took a while (forever) to get into. In true Jane Austen style, too many characters were introduced in the beginning of the book. Then it was hard to tell where Emma, as a character, was actually going. After some ambivalence with this book, I realized that Emma is a story about a flawed protagonist. Once I embraced this fact, Emma became a much easier and interesting read. Advice: Try giving it 75-100 pages before giving up. It just takes a while to get going.
Review by thimbleberry
16/06/2015
i didn't like it as much as pride and prejudice and sense and sensibility, but it was still a great read
Review by BudaBaby
16/06/2015
Austen set out to have a main character that no one would like,and she succeeded. I didn't begin to enjoy the book until around page 220, after which I began to appreciate the humor while still disliking almost all of the characters.