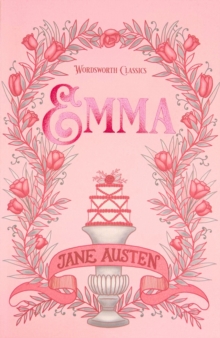 Description
With an Introduction and Notes by Dr Nicola Bradbury, University of Reading. Jane Austen teased readers with the idea of a 'heroine whom no one but myself will much like', but Emma is irresistible. 'Handsome, clever, and rich', Emma is also an 'imaginist', 'on fire with speculation and foresight'.
She sees the signs of romance all around her, but thinks she will never be married. Her matchmaking maps out relationships that Jane Austen ironically tweaks into a clearer perspective.
Judgement and imagination are matched in games the reader too can enjoy, and the end is a triumph of understanding.
Information
Format: Paperback
Pages: 416 pages
Publisher: Wordsworth Editions Ltd
Publication Date: 05/05/1992
ISBN: 9781853260285
Other Formats
Paperback from £2.50
Hardback from £9.15
CD-Audio from £11.39
EPUB from £0.99
Free Home Delivery
on all orders
Pick up orders
from local bookshops
Reviews
Showing 1 - 5 of 5 reviews.
Review by Wanderlust_Lost
16/06/2015
This novel, possibly Austen's best, is full of vivid characters, romance, and foolish confusion. Emma, the title character, is a young lady of high standing in her village and is preoccupied with matchmaking and other people's relationships yet firmly insistent that she will never marry herself. She is so intent on penetrating others' hearts and minds that she neglects her own and is completely oblivious to what she really wants and how she really feels.Her errors in judgement and perception bring about amusing and sometimes painful results.Although I must say that Persuasion is probably my favourite Austen I think that Emma is probably her best. The most ironic and satirical of her works, Emma has an edge that other Austen works lack. Perhaps it was Jane's own stage of life and circumstances combined with her failing health that urged her to write a novel with such a damning portrayal of certain common society types. While Austen did always aim to poke fun at those she saw as silly, dissolute, foppish, foolish, or snobbish this novel is different in that the faults of characters with those traits are more clearly shown and bitingly criticised.I like it and I like it.
Review by WomblingStar
16/06/2015
I love Austen, and this book is one of her best. The character of Emma is great. She is a fun person and really human. She is a romantic that wants everyone to be happy, but makes so many mistakes along the way. I like the era the novel is set in, with everyone very much set in their social status. The other characters are great, my favourite being Miss Bates.
Review by A.G.
16/06/2015
I have just finished reading this book and I really enjoyed it. Jane Austen is one of my favourite writers and Pride and Prejudice is one of my favourite books. Thus, I decided to read this book and I must say that I was not at all disappointed. Emma is an interesting character, and even though she seems to have it all (she is "handsome, clever, and rich"), she still has some flaws that make her likeable and that make the plot engaging. The reader observes from the beginning that the protagonist is rather spoiled and that she overestimates her own matchmaking skills. She thinks that she has the talent to find suitable husbands for her friends. However, as the story proceeds, one can see that she has no real talent for matchmaking and that she rather causes a lot of heartache and misunderstandings. That's because she thinks highly of herself and doesn't want to listen to anybody. In the end, she realizes the damage she has done and realizes that she is in love. Emma undergoes an emotional transformation and acknowledges her faults and that's why I like her so much. Overall, I really like the book because of its themes, the likable characters and the plot.
Review by SimoneA
16/06/2015
The thing I like most about Emma is the fact that she is not perfect, like a lot of other novel characters. What adds to that, is the fact that, as a reader, you pick up on a lot of things that Emma doesn't realize, so you can sort of gloat about her naivety. The mini-series that was recently made is very good, and for me added to the fun I had while rereading the book.
Review by soylentgreen23
16/06/2015
Not my favourite of Austen's books, certainly, and I cannot see the attraction in the eponymous heroine. Furthermore, the book feels terribly over-long, and when the big reveal arrives, as it does in all of Austen's fiction, it is particularly unsurprising.
Also in the Wordsworth Classics series | View all