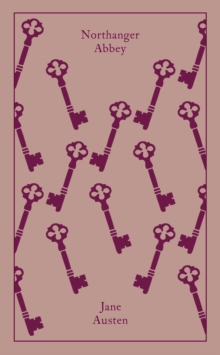 Northanger Abbey
Hardback
Description
Part of Penguin's beautiful hardback Clothbound Classics series, designed by the award-winning Coralie Bickford-Smith, these delectable and collectible editions are bound in high-quality colourful, tactile cloth with foil stamped into the design.
During an eventful season at Bath, young, naive Catherine Morland experiences the joys of fashionable society for the first time.
She is delighted with her new acquaintances: flirtatious Isabella, who shares Catherine's love of Gothic romance and horror, and sophisticated Henry and Eleanor Tilney, who invite her to their father's mysterious house, Northanger Abbey.
There, her imagination influenced by novels of sensation and intrigue, Catherine imagines terrible crimes committed by General Tilney.
With its broad comedy and irrepressible heroine, this is the most youthful and and optimistic of Jane Austen's works.
Information
Format: Hardback
Pages: 320 pages
Publisher: Penguin Books Ltd
Publication Date: 03/11/2011
ISBN: 9780141197715
Other Formats
Paperback from £2.50
Hardback from £6.55
Mixed media product from £10.26
Paperback / softback from £5.99
EPUB from £1.04
Free Home Delivery
on all orders
Pick up orders
from local bookshops
Reviews
Showing 1 - 3 of 3 reviews.
Review by bookworm12
16/06/2015
It's been a decade since I read Northanger Abbey for the first time. Re-reading it was such a delight. Catherine Morland is a young woman who lets her imagination run wild and loves to get lost in novels. While staying in Bath with family friends she meets two sets of brothers and sisters. The first is the Thorpes, Isabella and her brother John, who become insufferable as their true nature is slowly revealed. One of my favorite parts in the novel is when Catherine finally stands up to them, refusing to go along with their plans and cancel on her other friends again. The other pair of siblings is Henry Tilney and his sister Eleanor. Austen does a wonderful job comparing and contrasting the two sets of siblings, demonstrating a false nature vs. a genuine one. After getting to know Henry and Eleanor in Bath, Catherine is eventually invited to stay at their home, Northanger Abbey. There the young woman's love of gothic novels gets the best of her as she imagines dramatic tales unfolding around her. One thing that set Northanger Abbey apart from Austen's other work is the relationship between Catherine and Henry. In most Austen novels the heroine and her eventual match don't like each other or have some huge obstacle to overcome at the beginning of the novel. In Northanger Abbey, Catherine and Henry like each other from the start. I love their sweet flirtation. Henry is patient with her and teases her in a kind way. He also rises above his father and his brother when it comes to his priorities and moral compass. He's a truly good man and one of my favorite male Austen characters. A Few Things That Stood Out to Me This Time: - Henry is a word nerd! At one point in the story he corrects Catherine in the way she uses the word "nice." He does it in a playful, teasing way, but I love that he is a grammar lover. - Eleanor was only 13 years old when her mother died. I was only 14 when mine passed away and what she said about the loss rang true to me… "Her death must have been a great affliction!""A great and increasing one," replied the other in a low voice. "I was only thirteen when it happened; and though I felt my loss perhaps as strongly as one so young could feel it, I did not, I could not then know what a loss it was."- I'm reading Trollope right now as well and the goal of marrying for money is prevalent in both books. It never ends well for anyone. - I love Austen's jab about putting down other novelists. She pokes fun at the fact that high-brow authors of her time period often bash the authors of novels. She suggests that instead they should all stand up for each other. BOTTOM LINE: Northanger Abbey is fun and sweet. It's a quick read and a great way to meet Austen for the first time. It's not my favorite of her books, but Austen is my literary pizza, you can't find a "bad" Austen novel.
Review by Jaylia3
16/06/2015
Jane lets her wicked humor loose in this book, poking gentle (and sometimes not so gentle) fun at just about everyone's poses, pretensions, and delusions, but as silly as Austen makes novel-drama-obsessed Catherine she still allows her to be artlessly charming and a lively joy to spend time with, and on this reread I gained a renewed appreciation for the playful wit and heartfelt decency of Henry Tilney. Northanger Abbey has moved up a few places in my favorite Austen novel list.
Review by thereadingrebel
16/06/2015
Catherine Morland is a naive 17-year-old country girl with a love of gothic novels.When the family friends(The Allen's)invite her to the spa town of Bath,she readily agrees to go.Her first week in Bath,she meets a witty young clergymen named Henry Tilney who she quickly falls in love with.When Henry's sister and father invite her to their country estate Northanger Abbey,Catherine having read all about Abbeys in her beloved gothic novels is ready to encounter murders,secret rooms and other myham.When her imagination runs wild it is up to her love Henry Tilney to make Catherine see how absurd her thoughts and ideas are.As in all Austen's novels you will meet some very ridiculous characters like the fashion obsessed Mrs.Allen and Mr.Thorpe today's version of a guy who loves to talk about how great he is,how much money he has and how fast his car goes.Jane Austen loved a laugh and in Northanger Abbey she takes great delight in mocking the gothic novel.Compared to Austen's other work like Pride and Prejudice,Northanger doesn't have the character development,plotting and pose of her mature work but is still a joy to read.
Also in the Penguin Clothbound Classics series | View all